Krka complete the comeback to beat GGD Šenčur!
Saturday, 26. November 2022 at 11:59
Krka mounts an impressive second-half comeback to beat GGD Šenčur in Sarajevo.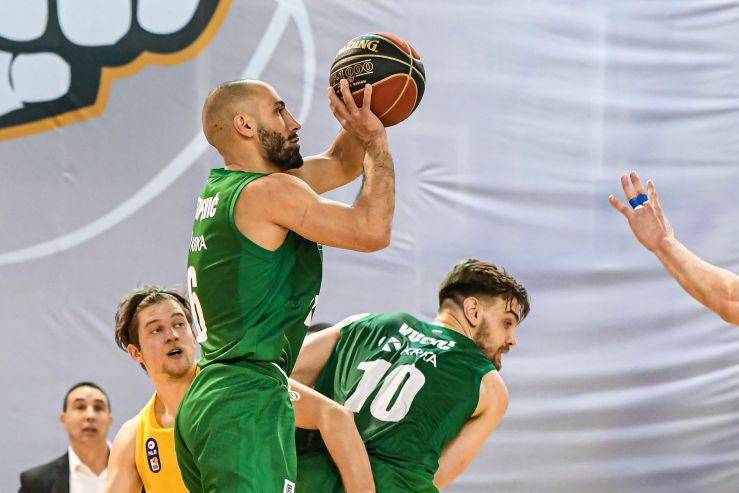 (Photo: ABA League j.t.d./Dragana Stjepanovic)
NLB ABA League 2 Round 5, Saturday, 26 November 2022:
GGD Šenčur - KRKA 63:66 (27:14, 18:10, 14:23, 4:19)
In an exciting finish, Krka overcame a big first-half deficit to keep their perfect record as they beat GGD Šenčur.
GGD Šenčur stormed out of the gates early, opening the game with a 13:2 run to set the tone of the first half, Miljan Pavković's squad held a big 21-point lead at the half. Krka didn't give up after the break, they began cutting into the GGD Šenčur during the third quarter but in the fourth quarter is where their impressive comeback came to fruition. Krka allowed GGD Šenčur to score only 4 points in the final quarter of play, with 27 seconds remaining in the game Rok Stipčević hit a big three to give Krka their first and only lead of the game for 63:64.
Dino Murić was the top scorer for GGD Šenčur, he finished the match with 12 points and 6 rebounds. For Krka, Mate Vucić had a fantastic performance with 16 points and 12 rebounds in today's win.
Krka keeps a perfect record after five rounds of the 2022/2023 NLB ABA League 2 season while GGD Šenčur is still looking for their first win.