Roko Leni Ukić will play for Split for free in the rest of the season
Saturday, 03. December 2022 at 20:37
Roko Leni Ukić will play one more season in AdmiralBet ABA League as he decided to join Split squad for the rest of the season.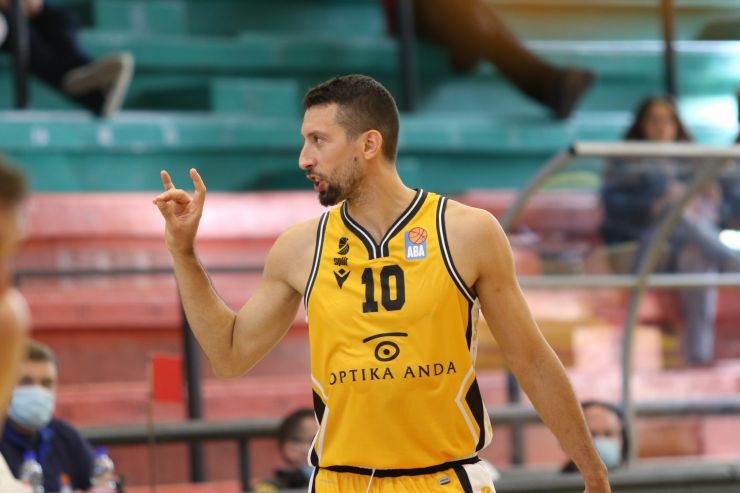 Roko Leni Ukic (Photo: Split/Ivica Cavka)
Roko Leni Ukić will play one more season in AdmiralBet ABA League as he decided to join Split squad for the rest of the season.
Split legend has decided to play for free for his beloved club in the 2022/23 campaign.
"It is a big pleasure to have Roko in the squad, while everything else just shows what kind of person he is. His decision of coming back to the court depended mostly on how much his body could handle the requirements of modern-day basketball. But, when Roko saw during the team practices that everything was going in the right direction, he had no more doubts," said Split head coach Srđan Subotić.
Roko Leni Ukić has been practicing with the first team for some time now, while he should be ready to make his 2022/23 season debut already this Monday evening in the match between Mornar-Barsko zlato and Split.
"I can say that I have returned on court much quicker than I expected. It is not realistic to expect that I will be at full strength already at the start, but I've been practicing with the boys for one month and I believe I can help the team. What can I say, I am entering my 23rd season, I am heading forward and will see how far I will get," said Ukić.
Roko Leni Ukić started his pro career in Split for which he played from 2000 to 2005. After that he played for numerous European giants including Baskonia, Barcelona, Lottomatica Roma, Fenerbahce, Panathinaikos… He also spent two seasons in the NBA where he played for the Toronto Raptors and for the Milwaukee Bucks.
Last year he returned to his childhood club Split, while now he is ready to continue his story wit the famous Yellow crew.
-------------------------------------------
Roko Ukić nastavlja sa karijerom, igrat će za "Žute" besplatno
Još uvijek nije vrijeme za košarkašku mirovinu, takvu je odluku Roko Ukić donio još prije dva mjeseca i u tajnosti trenirao punim tempom da bi danas stigla i konačna potvrda. Roko Ukić nosit će dres Splita s brojem 10 do kraja ove sezone. Ukić će igrati besplatno, još jednom je dokazao svoju veličinu i ljubav prema "Žutima". U momčadi će biti već u utakmici protiv Mornara u Baru, koja je na rasporedu u ponedjeljak u 18 sati, točno na njegov 38. rođendan.
– Suvišno je govoriti o Roku, iznimno je zadovoljstvo imati ga u momčadi, a sve ovo ostalo sasvim dovoljno kazuje kakav je čovjek. Odluka je ovisila najviše o tome koliko njegovo tijelo može. I kada je na treninzima vidio da to ide u pravom smjeru dvojbi nije bilo – kazao je trener Srđan Subotić.
S velikim zadovoljstvom svoj prvi potpis na funkciji direktora KK Splita stavio je Dejan Žaja.
– Ovo je odličan ugovor za klub, hvala Roku na razumijevanju, hvala mu što nastavlja s karijerom. Jer, on je takva igračka veličina da bismo svi voljeli da još dugo traje. Uvjeren sam da će nam puno pomoći i ovu sezonu učiniti sezonom koja će nam donijeti puno radosti – kazao je Žaja.
Za one koji su zaboravili ili ne znaju tko je Ukić evo malog podsjetnika na klubove u kojima je igrao u veličanstvenoj karijeri – Split, Baskonia, Barcelona, Virtus Rim, Toronto, Milwaukee, Fenerbahče, Panathinaikos, Cedevita, Cantu, Varese, AEK, Boulogne, Antibes i Cedevita Olimpija.
– Povratak se dogodio brže od očekivanog uslijed situacije s ozljedama. Nije realno da već sada budem na sto posto, ali već mjesec dana treniram s ekipom i vjerujem da mogu pomoći. A što reći, evo moje sezone broj 23, idem dalje, pa ćemo vidjeti gdje ću stići – s užitkom je komentirao Roko svoj nastavak karijere.