Aleksandar Petrović is no longer MZT Skopje Aerodrom head coach
Saturday, 24. December 2022 at 18:30
After a series of defeats in the AdmiralBet ABA League, two of which came on home court against direct competitors in the battle to avoid the bottom of the standings, the MZT Skopje Aerodrom management and head coach Aleksandar Petrović agreed to finish their cooperation ahead of time.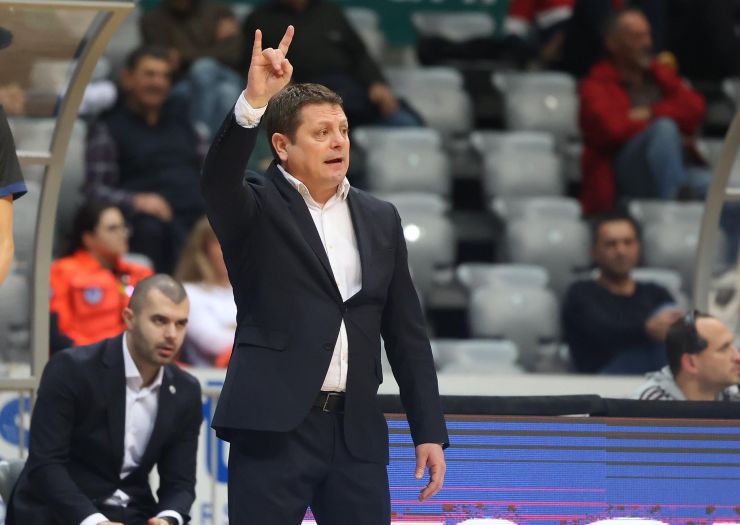 Aleksandar Petrovic (Photo: Zadar/Zvonko Kucelin)
Aleksandar Petrović began his third episode at the bench of MZT Skopje Aerodrom in March, after he has been previously at the helm of the Metalists between 2001 and 2007 and also between 2009 and 2011. Last season he has won the domestic championship, while he reached the NLB ABA League 2 Final, qualifying for the AdmiralBet ABA League this season.
This season MZT Skopje Aerodrom won 2 out of 12 games at the opening of the season in the elite club regional competition at the start of the season.
--------------------
Aleksandar Petrović poveće ne e trener na MZT Skopje Aerodrom
Po serijata porazi vo ABA, među koi bea dvata na domašen teren protiv direktnite konkurenti za opstanok, Borac Čačak i Split, upravata na MZT Skopje Aerodrom i trenerot Aleksandar Petrović se dogovorija predvreme da ja prekinat međusebnata sorabotka.
Iskusniot strateg svojot tret mandat na sino-belata klupa go počna vo mart godinava, otkako prethodno beše predvodnik na ovoj tim vo periodot pomeđu 2001 i 2007 godina odnosno pomeđu 2009 i 2011 godina. Petrović minatata sezona ja odbrani domašnata titula, vo ABA2 stigna do finaleto što beše dovolono za promocija.
Sezonava vo Prvata liga ostvari učinok 9-1, no vo jadranskata konkurencija timot ostvari samo dve pobedi vo vkupno 12 sredbi poradi što e poslednoplasiran na tabelata.