Dragan Nikolić is the new MZT Skopje Aerodrom head coach
Tuesday, 27. December 2022 at 15:41
Experienced coach Dragan Nikolić has been named the new head coach of MZT Skopje Aerodrom, as he has signed a contract until the end of the season with the Skopje side, that can be extended until June of 2024.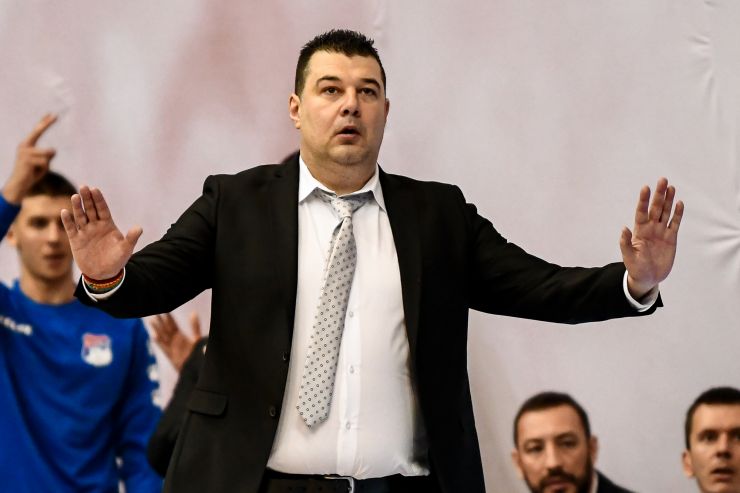 Dragan Nikolic (Photo: ABA League 2/Dragana Stjepanovic)
The tactician is familiar to the Skopje fans, since he used to lead Karpoš Sokoli in the AdmiralBet ABA League before.
The last team, that Dragan Nikolić used to coach was Borac of Banja Luka (2020-22), which he has been leading in the NLB ABA League 2. Ahead of that, he has been in charge with Koszalin, Mladost Zemun, AV Ohrid and Profitnes.
It is expected for Dragan Nikolić to make his debut at the MZT Skopje Aerodrom bench on Friday, when the Skopje squad will face Cibona in the 13th round of the AdmiralBet ABA League.
---------------------
Dragan Nikolić e nov trener na MZT Skopje Aerodrom
Iskusniot srpski strateg, Dragan Nikolić (50 godini), od deneska e nov trener na MZT Skopje, otkako potpiša dogovor do krajot na sezonata so možnost toj da bide prodolžen i do juni 2024 godina.
Stanuva zbor za dobro poznato ime za makedonskata sportska javnost, so ogled što vo sezonata 2016/17 poveće od uspešno go predvodeše Karpoš Sokoli vo ABA-ligata i beše poveće od dostoen rival na sino-belata četa vo bitkata za titulata vo prvata liga, koja na krajot ja dobija duri po "majstorka". Nikolić ima i makedonski pasoš so ogled na potekloto na negovoto semejstvo od našata zemja, a zgora na toa negova sopruga e edna od najdobrite makedonski košarkarki na site vreminja, Marija Vidikova.
Negov posleden klub beše Borac Banja Luka (2020-2022) so koj nastapi na završniot turnir od ABA2 godinava vo april vo Skopje, preku koj našiot tim obezbedi vraćanje vo regionalnata elita. Prethodno, ja predvodeše Igokea, polski Košalin, Mladost Zemun, a na početokot na 21 vek nekolku sezoni beše trener na poranešniot ženski gigant od Ohrid, timot na Profitnes.
Popularniot Gagi se očekuva deneska da pristigne vo Skopje, a debito na klupata će go ima v petok na gostuvanjeto kaj Cibona vo meč od 13. kolo od ABA-ligata.