Dragan Milosavljević is the new Igokea m:tel player
Friday, 30. December 2022 at 16:29
Dragan Milosavljević is the new player of the Laktaši squad, where he is arriving from Mega MIS, where he spent the first part of the 2022/23 season.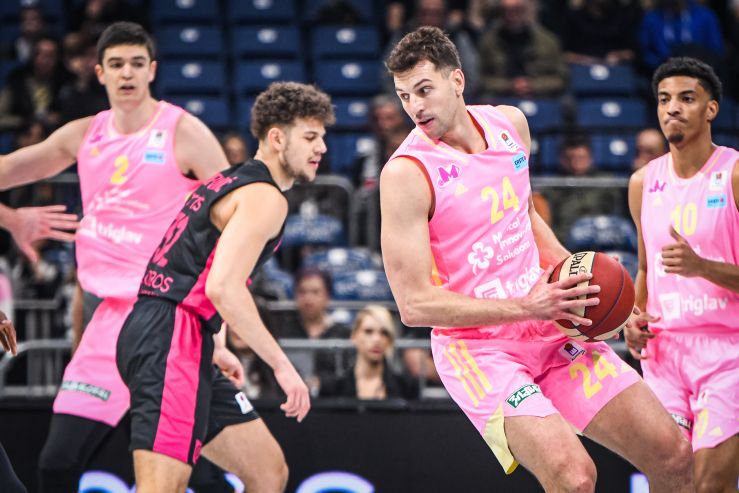 Dragan Milosavljevic (Photo: ABA League j.t.d./Dragana Stjepanovic)
Dragan Milosavljević started his senior playing career at Napredak Kruševac. He spent the 2009/10 season at Radnički Kragujevac. In 2010 he signed an agreement with Partizan Mozzart Bet.
He spent five seasons wearing the black and white jersey and won two regional league trophies.
In June 2015 he signed a two-year deal with Alba Berlin and moved to Unicaja Malaga in 2017. He spent his first episode with Mega MIS in the 2021 and moved to Bursaspor afterwards, from where he transferred to Fuenlabrada until the end of the 2021/22 season. In October, he returned to the AdmiralBet ABA League, joining the ranks of Mega MIS.
--------------------
Dragan Milosavljević je novi igrač Igokee m:tel
Dragan Milosavljević je novi igrač kluba iz Laktaša, u koji dolazi iz Mege MIS, gde je igrao u prvom delu sezone 2022/23.
Milosavljević je seniorsku karijeru počeo u kruševačkom Napretku. Sezonu 2009/10 je proveo u Radničkom iz Kragujevca. U junu 2010. je potpisao ugovor sa Partizanom.
U crno-belom dresu proveo je narednih pet sezona i osvojio je dvije ABA lige.
U junu 2015. potpisao je dvogodišnji ugovor sa Albom iz Berlina. Sa Albom je osvojio Kup Njemačke za 2016. godinu. U julu 2017. je potpisao dvogodišnji ugovor sa Malagom. U junu 2019. je produžio ugovor sa klubom na još dve godine. Međutim, u avgustu 2019, dok je nastupao za reprezentaciju, pokidao je ligamente koljena. Zbog te povrede nije više nastupao za Malagu, a 17. februara 2021. je i zvanično raskinuo ugovor sa klubom. Dana 2. aprila 2021. je potpisao ugovor sa Megom do kraja sezone. U julu 2021. je potpisao jednogodišnji ugovor sa turskim Bursasporom. Nastupio je na samo tri prvenstvene utakmice za Bursaspor, nakon čega jenarednog mjeseca je potpisao ugovor sa španskom Fuenlabradom do kraja takmičarske 2021/22. Po drugi put je potpisao za Megu u oktobru 2022. godine.