Nikola Topić is the new FMP Meridian player
Friday, 06. January 2023 at 23:07
One of arguably the most talented players in the 2005 generation, Nikola Topić, is the new point guard of FMP Meridian.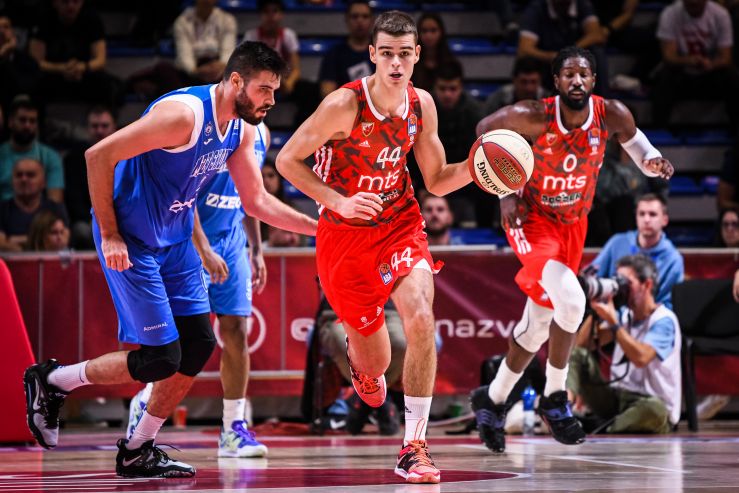 Nikola Topic (Photo: ABA League j.t.d./Dragana Stjepanovic)
The tall point guard has signed a contract with the Panthers until the end of the season and is expected to represent a reinforcement at the point guard position in the second part of the AdmiralBet ABA League season.
With 17 years of age, Nikola Topić has already written down two appearances in the Crvena zvezda Meridianbet jersey in the Turkish Airlines EuroLeague, while he has made seven appearances in the AdmiralBet ABA League, averaging 3.4 points per game. Before making a debut in the senior competition, the 198 cm tall point guard used to play for the U16 and U18 Crvena zvezda Meridianbet teams.
---------------------
Topić novi igrač FMP Meridiana
Jedan od najtalentovanijih igrača u generaciji 2005. Nikola Topić novi je plejmejker KK FMP Meridian.
Visoki plejmejker potpisao je ugovor sa Panterima do kraja sezone i predstavljaće pojačanje na poziciji organizatora igre u drugom delu regionalnog takmičenja.
Sa 17 godina Nikola Topić je već zabeležio dva nastupa u dresu Crvene zvezde debi u Evroligi, dok je u ABA ligi nastupao na sedam utakmica uz 3.4 poena u proseku. Pre debija na seniorskom nivou, plejmejker visok 198 centimetara je igrao za kadetski i juniorski sastav crveno-belih.