AdmiralBet ABA League clubs in Europe (schedule)
Wednesday, 25. January 2023 at 07:28
While waiting for the next AdmiralBet ABA League round, let's keep our fingers crossed for all regional clubs who are playing in European competitions this week.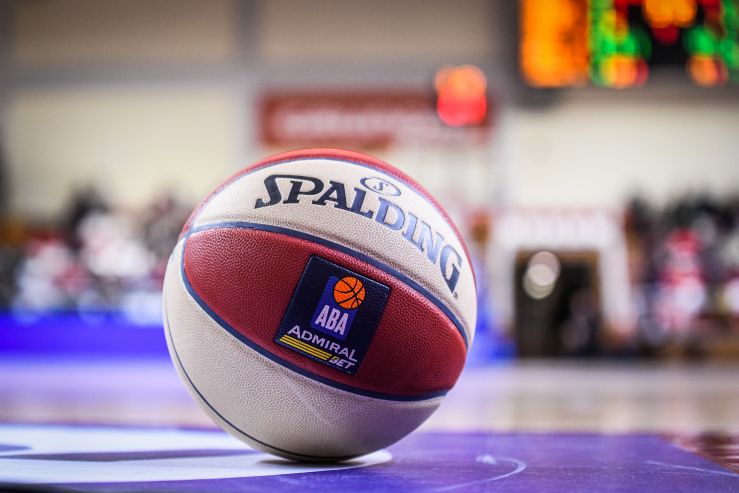 AdmiralBet ABA League ball (Photo: ABA League j.t.d./Dragana Stjepanovic)
Crvena zvezda Meridanbet (10-10) and Partizan Mozzart Bet (9-11) will face each other this week in the Turkish Airlines EuroLeague! The red-and-whites will be the hosts on Friday evening, while this will be their 3rd clash in the ongoing season, counting all competitions.
Recall that Crvena zvezda Meridianbet have won both of the previous two Belgrade derbies in this season. The red-and-whites defeated their arch rivals at home court in AdmiralBet ABA League by 90:74, while then Zvezda triumphed in the first ever Belgrade derby played in European competitions as they defeated Partizan Mozzart Bet on the road in the 1st part of the 2022/23 Turkish Airlines EuroLeague regular season – 76:73.
We are about to find out very soon whether Crvena zvezda Meridianbet will continue their winning streak against their arch rivals or will Partizan Mozzart Bet strike back and grab their first derby win of the season.
Meanwhile in 7Days EuroCup, Budućnost VOLI and Cedevita Olimpija will both play on the road on Wednesday evening.
Budućnost VOLI (7-4) will play against Promitheas Patras (6-5) in the match in which the Podgorica side will try to score their 3rd win in a row in this competition.
On the other side, Cedevita Olimpija (2-9) will face Joventut Badalona (7-4) and will try to get back on the winning path after two consecutive defeats.
2022/23 Turkish Airlines EuroLeague Regular Season, Round 21, Friday, January 27, 2023:
Crvena zvezda Meridianbet – Partizan Mozzart Bet (19:00)
2022/23 7Days EuroCup Regular Season, Round 12, Group B, Wednesday, January 25, 2023:
Promitheas Patras – Budućnost VOLI (18:30)
Group A:
Joventut Badalona – Cedevita Olimpija (20:30