Emmanuel Lecomte pens deal with Budućnost VOLI
Monday, 06. February 2023 at 17:00
The Podgorica side has just got stronger at the point guard position.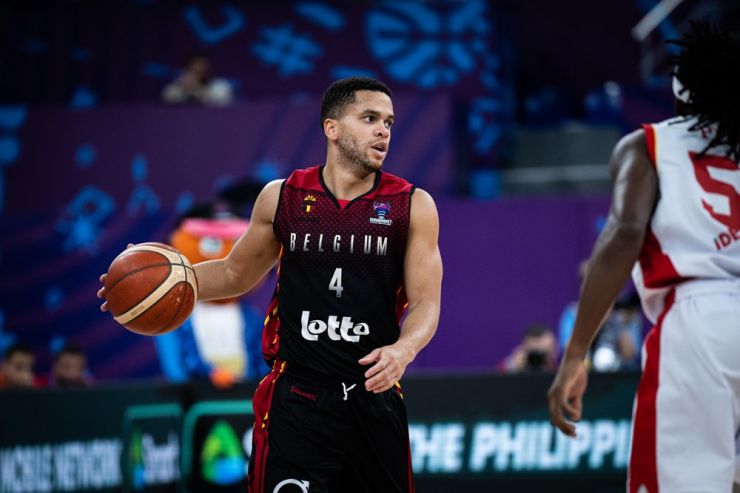 (Photo: FIBA)
Budućnost VOLI have completed another transfer as they signed a contract with the 27-year-old Belgian point guard Emmanuel Lecomte.
Lecomte spent the first part of the 2022/23 season in Israeli team Hapoel Eliat where he averaged 13.7 points, 5.9 assists and 3.3 rebounds.
Before that, he played for Lithuanian teams CBet Jonava and CBet Prienai, then for French side Élan Béarnais, German team Skyliners Frankfurt and for two Spanish clubs Gran Canaria and UNAM Murcia.
Lecomte also played in the NBA G League for the Agua Caliente Clippers.
Emmanuel Lecomte is a regular member of the Belgian national team and he participated in the last two FIBA EuroBasket tournaments. He averaged 14 points, 3.3 rebounds and 3.3 assists at the 2022 FIBA EuroBasket.
------------------------------------
Emmanuel Lecomte potpisao za Budućnost Voli
Reprezentativac Belgije, Emmanuel Lecomte, novi je košarkaš Budućnost Volija!
Riječ je o 180cm visokom košarkašu koji je prve dvije godine koledž karijere proveo u Miami-u, da bi Junior i Senior godinu branio boje Baylora.
Profesionalnu karijeru je započeo u razvojnoj ekipi Los Angeles Clippers-a gdje je bilježio 14.1 poen i 4.4 asistencije po meču.
U Evropi je nastupao za špansku Baxi Manresu i Gran Kanariju, u njemačkoj za Fraport Skylinerse, francuskoj Pau-Orthez. Prethodne dvije sezone je završio u Litvaniji nastupajući za Vytautas Prienu i Jonava Jonavos.
U tekućoj sezoni igrao je za izraelski Hapoel Eilat postižući 13.7 poena uz 5.9 asistencija i 3.3 skoka.
U poslednjih pet godina je standardni član belgijske reprezentacije za koju je nastupio na dva Eurobasketa. Na Eurobasketu održanom prethodnog ljeta dvadesetsedmogodišnji košarkaš je prosječno postizao 14 poena uz 3.3 asistencije i 3.3 skoka.