Crvena zvezda Meridianbet down Borac Mozzart on the road to stay in the race for the top spot
Sunday, 09. April 2023 at 19:29
Crvena zvezda Meridianbet have clinched another win in the 2022/23 AdmiralBet ABA League regular season as they defeated Borac Mozzart on the road.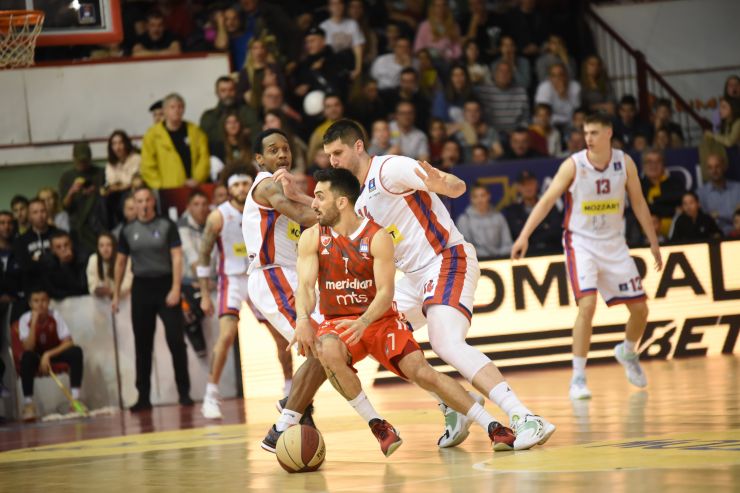 (Photo: Borac Mozzart/Dusko Radisic)
AdmiralBet ABA League Round 25, Sunday, 9 April 2023:
Borac Mozzart – CRVENA ZVEZDA MERIDIANBET 82:87 (17:19, 17:23, 16:22, 32:23)
Game recap: Crvena zvezda Meridianbet grabbed a tough road win against Borac Mozzart to stay in the race for the top spot in the 2022/23 AdmiralBet ABA League regular season.
The Belgrade team have had a comfortable lead throughout the match, however in the final 5 minutes of the game Borac Mozzart almost pulled off a miraculous comeback. The home team managed to reduce the gap to just 3 points – 83:80 – and they had a chance to get even closer, however FIlip Petrušev made the key block on Hunter Hale to keep a 3-point lead for Crvena zvezda Meridianbet, with less than 30 seconds remaining on the game clock.
Crvena zvezda Meridianbet now have the overall score of 20-3, while Borac Mozzart are at 6-19.
Key moments: Borac Mozzart had a 16-point deficit at the start of the 4th quarter – 66:50, but then they started melting Zvezda's lead rapidly all the way until they have reduced the gap to 3 points – 83:80.
With 34 seconds left on the game clock, Borac Mozzart's top scorer Hunter Hale took the ball and tried to quickly finish the play in order to provide his team one more ball-possession until the end. Hale went for a lay-up, but he ran into Crvena zvezda Meridianbet tallest player on court Filip Petrušev who blocked Hale's shot.
In the remaining time, Borac Mozzart had to make quick fouls, while Crvena zvezda Meridianbet star player Facundo Campazzo scored all of his 4 free throws to seal the win for the visitors – 87:82.
Man of the match: Facundo Campazzo was just too fast for his opponents today. The Argentine point guard scored 22 points, while his overall index rating in this match was 27.
Can't trick the stats: Crvena zvezda Meridianbet made 17 assists, while on the other side Borac Mozzart had just 9 assists for the entire match. The visitors were moving the ball better and that was one of the key factors for their win.