Can Borac Mozzart stun Budućnost VOLI in Morača and avoid the 14th place?
Friday, 14. April 2023 at 11:59
On Saturday night, Budućnost VOLI will be hosting Borac Mozzart at home in their Morača Sports Hall in Podgorica.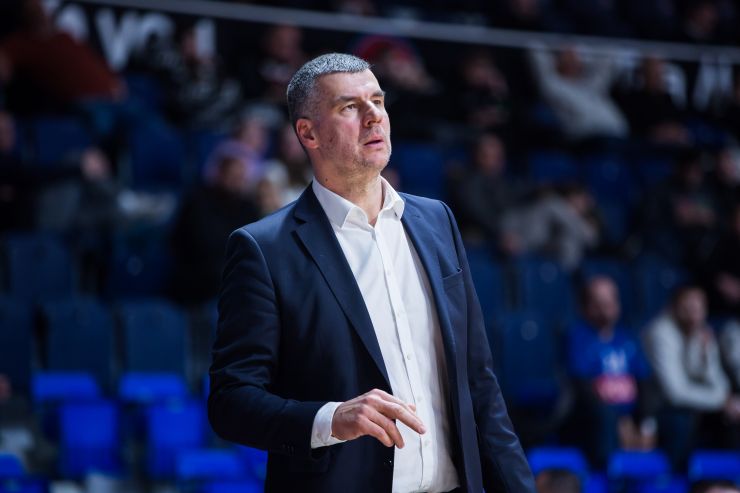 Vladimir Jovanovic (Photo: Buducnost VOLI/Filip Roganovic)
AdmiralBet ABA League Round 26, Saturday, 15 April 2023:
BUDUĆNOST VOLI – BORAC MOZZART
Where? Morača Sports Hall, Podgorica
When? 19:00
Story of the game: On Saturday night, Budućnost VOLI will be hosting Borac Mozzart at home in their Morača Sports Hall in Podgorica.
It's an important game, which might not matter much for Budućnost VOLI in terms of final standings at the end of the Regular Season, as they will finish 3rd no matter what happens on Saturday, but they will for sure wish to continue building on their self-confidence following 9 straight wins and will wish to extend the streak before the beginning of the important part of the season – the Playoffs.
On the other side, it is perhaps the most important game for Borac Mozzart in this Regular Season, as a possible win over Budućnost VOLI would guarantee them to avoid the last place in the standings which means relegation to the NLB ABA League 2. In case they lose against Budućnost VOLI and MZT Skopje Aerodrom prevail over Cibona, they will play in the 2nd-tier regional club competition next season. However, if both teams are defeated, Borac Mozzart will play in the AdmiralBet ABA League Qualifiers. It will not be an easy task for the Čačak squad, as not only are Budućnost VOLI on a truly long winning streak, but also Borac are entering the game after 2 games lost.
Also, they will be battling tradition in Morača, as in 7 games played between the two sides, Budućnost VOLI have prevailed each and every time so far.
Match-up in focus: It will be a match-up of two excellent guards, both of which are both the top scorers and passers of their respective squads. While Trae Bell-Haynes is leading Budućnost VOLI in scoring and passing with an average of 14.5 points and 4.8 assists per game, Hunter Hale is on top at both points and assists at Borac Mozzart side with an average of 22.2 points and 3.9 assists per game. It is quite possible that the one that prevails in this head-to-head matchup, would take his team to the win this time.
Head-to-head score in the regional league: In total 5:0, In Podgorica 2:0.