Darko Talić is new Borac Mozzart player
Wednesday, 02. August 2023 at 19:18
Borac Mozzart has added another player to its roster for the forthcoming season. It is Darko Talić, a point guard, coming from Igokea m:tel.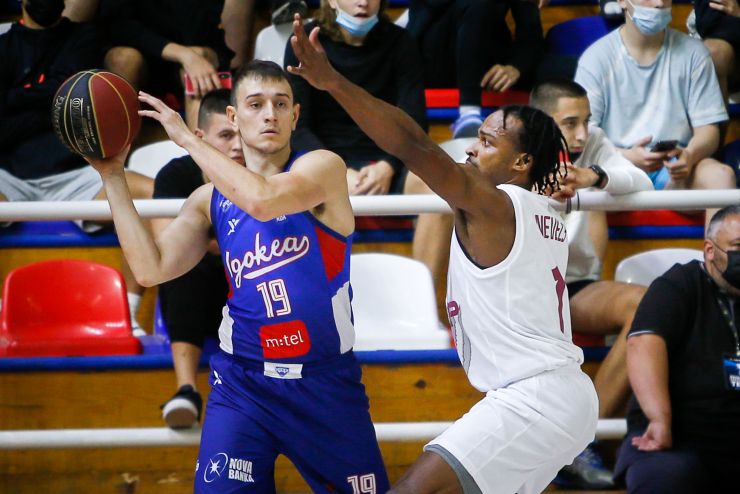 Darko Talic (Photo: FMP)
The club of Čačak and the point guard have agreed on cooperation, that is supposed to last for the next two seasons.
Darko Talić has arrived in Čačak from Igokea m:tel, where he spent a good part of his season. To put it more precisely, he signed his first professional contract in 2015 with Igokea m:tel and played for the Laktaši side ever since, with exception of the seasons 2017/18 and 2018/19, which he spent on loan at Kakanj and Vogošća. Last season he appeared in no more than three games due to problems with injuries.
Darko Talić is the fourth reinforcement of Borac Mozzart this summer. Previously, Nikola Manojlović, Ronaldo Segu and Tylan Birts have signed with Borac Mozzart, while Petar Radović signed a scholarship agreement.
--------------------
Darko Talić nova akvizicija Borca Mozzart
Košarkaši klub Borac Mozzart popunio je roster svog prvog tima još jednim igračem. Reč je o Darku Taliću (25, 186), plejmejkeru iz Igoke m:tel.
Čelnici kluba i novi organizator igre sklopili su saradnju koja će na obostrano zadovoljstvo potrajati naredne dve godine.
Momak iz Banja Luke u Čačak je stigao iz Igokee, gde je proveo dobar deo svoje karijere. Preciznije, prvi profesionalni ugovor potpisao je upravo sa pomenutim klubom 2015. godine. Doduše, u sezoni 2017/18. igrao je za Kakanj na pozajmici, a narednu 2018/19. je proveo u Vogošći.
Minule takmičarske godine nije igrao puno, svega tri meča, jer je imao problem sa povredom. Ali je zato u sezonama pre pružao znatno bolje partije za svoj tim u regionalnom i domaćem takmičenju.
Darko Talić je četvrto pojačanje koje je Borac Mozzart doveo ovog leta. Pre njega, u klub su stigli Nikola Manojlović, Ronaldo Segu, Tajlan Džamon Birts, dok je Petar Radović potpisao stipendijski ugovor.