Nikola Topić on a loan at Mega MIS until the end of season
Monday, 07. August 2023 at 13:09
The winner of the gold medal with Serbia National Team at the U18 European Championship in Niš, Nikola Topić, is the new reinforcement of Mega MIS. The talented point guard will be playing for the Belgrade side as a player on a loan from Crvena zvezda Meridianbet until the end of the 2023/24 season.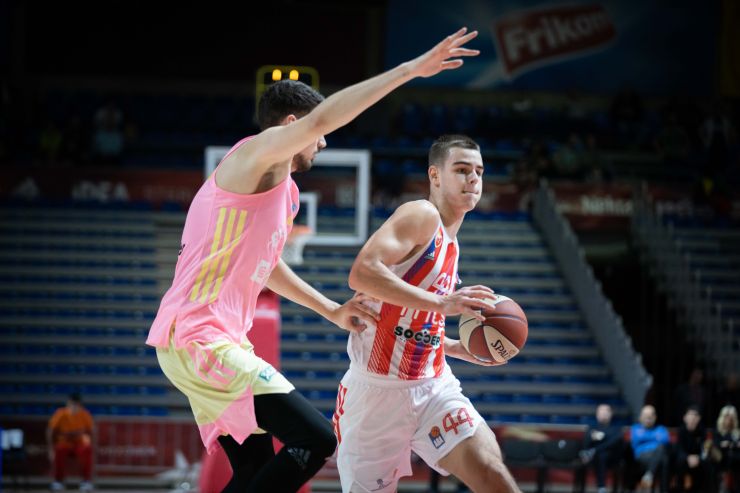 Nikola Topic (Photo: Crvena zvezda mts/Djordje Kostic)
Nikola Topić started playing basketball at the basketball club Defense of Novi Sad and in 2020 he signed a multi-year scholarship agreement with Crvena zvezda Meridianbet. In 2022 he made his debut for the senior squad.
In the season behind us he used to be the MVP of the Euroleague Next Generation Tournament in Belgrade, as well as a member of the all-tournament team in at the Final Tournament in Kaunas. He used to average 17.2 points and 6.3 assists per game in the Serbian Superleague laste season.
He also made it into the all-tournament team of the recently finished U18 European Championship in Niš, where his Serbia National Team won the gold medal.
--------------------
Nikola Topić na pozajmici u Megi do kraja sezone
Osvajač zlatne medalje sa reprezentacijom Srbije na U18 Evropskom prvenstvu u Nišu, Nikola Topić, novo je pojačanje Mega MIS-a. Talentovani plejmejker će za ekipu Marka Baraća nastupati kao pozajmljen igrač Crvene zvezde do kraja sezone 2023/24.
Topić je ponikao u novosadskom klubu Difens, da bi početkom 2020. potpisao višegodišnji stipendijski ugovor sa Zvezdom. Tokom sezone 2021/22 je počeo da trenira sa prvim timom, a prvi zvanični nastup za seniore upisao je u martu 2022. godine.
U sezoni za nama bio je najkorisniji igrač kvalifikacionog turnira juniorske Evrolige u Beogradu, kao i član idealne petorke završnog turnira u Kaunasu. Tokom drugog dela protekle takmičarske godine nastupao je i za OKK Beograd i beležio 18,1 poena i 4,8 asistencija u Košarkaškoj ligi Srbije, kao i 17,2 poena i 6,3 završna dodavanja u Superligi.
Krajem jula je u dresu reprezentacije Srbije osvojio Evropsko prvenstvo u Nišu zajedno sa tri mlada igrača Mega MIS-a, Bogoljubom Markovićem, Filipom Jovićem i Andrejem Mušickim, a bio je proglašen i za MVP-a kontinentalne smotre za juniore, pa je uz Markovića bio uvršten i u najbolju petorku. Na sedam nastupa prosečno je upisivao 15,3 poena i 5,1 asistenciju.