The MVP, Luka Božić, pens a 1-year extension with Zadar
Saturday, 12. August 2023 at 16:05
Last season's MVP will be staying put after signing a 1-year extension with Zadar following a stellar season.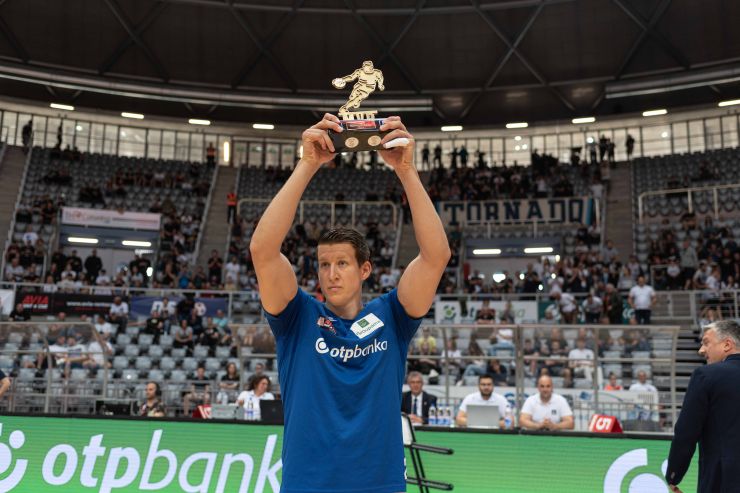 (Photo: Zadar/Zvonko Kucelin)
Luka Božić will continue to dawn the colors of Zadar in the 2023/24 season! Božić was the key figure in Zadar's stellar season last year, helping them get to the playoffs for the first time in 15 years.
Last year Božić put up some historic performances, including his massive 51 index rating game against Mega MIS in Krešimir Ćosić Hall.
Zadar signed extensions with Marko Ramljak, Karlo Žganec, Dario Drežnjak, and Adem Mekić. At the same time, Arijan Lakić, Antonio Sikirić, and Krševan Klarica remained under contract, the only new names in the dressing room are Patrik Jambrović and Lovro Mazalin.
----------------------
Luka Božić će i u sezoni 2023/24 nositi dres KK Zadar! Potpisom MVP-ja prošlosezonskog izdanja ABA lige i jednog od ključnih igrača koji su Zadru donijeli naslov prvaka Hrvatske. zaokružena je priča oko rostera momčadi u čijem je slaganju glavni cilj bio zadržati većinu igrača iz prošle sezone.
– Uloženi su ekstra napori ne bi li se pronašli dodatna sponzorska sredstva i donacije koje su pomogle realizaciju ovog posla. Ostanak Luke Božića ima višestruki značaj za klub. Vjerujemo da će nam rezultatska stabilnosti donijeti i povećani marketinški interes, veći broj prodanih ulaznica te pomoći prihodima, rekla je vršiteljica dužnosti direktorice KK Zadar Vana Dundov.
– Iznimno sam sretan što smo uspjeli postići dogovor s Lukom Božićem. Od samog početka slaganja rostera namjera je bila zadržati igrače koji su prošloj sezoni bili nositelji igre kako bismo nastavili kontinuitet uspješnih rezultata, izjavio je sportski direktor Denis Pleslić.
Prije Božića nove ugovore sa Zadrom su potpisali Marko Ramljak, Karlo Žganec, Dario Drežnjak i Adem Mekić, pod ugovorom su ostali Arijan Lakić, Antonio Sikirić i Krševan Klarica, a nova imena u svlačionici su Patrik Jambrović i Lovro Mazalin.
Treneru Danijelu Jusupu i ostatku momčadi Božić će se priključiti sredinom sljedećeg tjedna, a medijima se obratiti na konferenciji za medije u četvrtak 17. kolovoza u 12:30 sati u Press dvorani dvorane Krešimir Ćosić.
Istom će prigodom biti najavljen početak prodaje pretplatničkih ulaznica i novih MVP#29 majica s potpisom Luke Božića.