Vladimir Mihailović makes the move from Mornar-Barsko zlato to Budućnost VOLI
Saturday, 12. August 2023 at 21:01
Vladimir Mihailović returns to Budućnost VOLI after 9 years.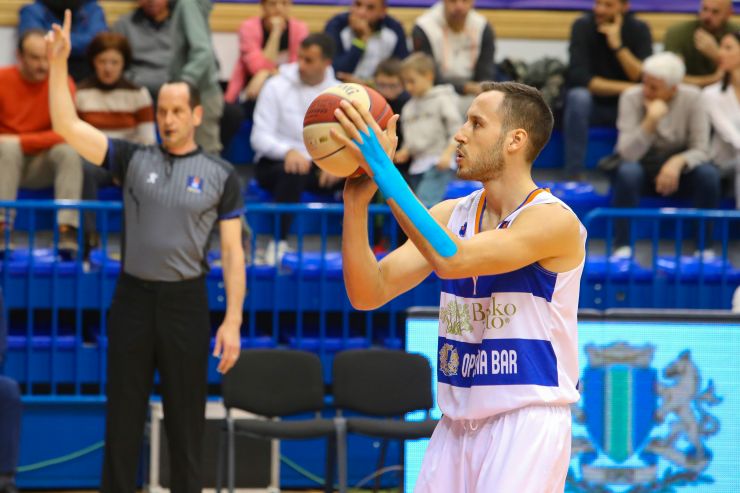 Vladimir Mihailovic (Photo: Mornar-Barsko zlato/MEDIA Pro)
Vladimir Mihailović returns to the ranks of Budućnost VOLI after almost a decade.
Mihailović spent the last two seasons representing Mornar-Barsko zlato where he was one of the top offensive assets on the team.
While in Mornar, he set the AdmiralBet ABA League record for the number of points, he dropped a record-breaking 46 points against Mega MIS in the 2021/2022 season (the same was later broken by his teammate Daron Russell last season).
---------------
Vladimir Mihailović, naš košarkaški reprezentativac, se nakon skoro decenije vraća u redove plavo-bijelih.
Košarkaš koji je četiri godine nosio naš dres i brzo postao miljenik publike u "Morači" osvojio je sa nama četiri titule prvaka Crne Gore i tri Kupa.
Svoju karijeru je dalje gradio po Njemačkoj, Belgiji, jedno vrijeme i u VTB ligi, da bi se vratio u Mornar.
U Belgiji sa Ostendeom osvaja duplu krunu, a prije dvije godine je kao član Okapija bio MVP PBL lige.
U Mornaru je uspio da postavi rekord po broju poena u ABA ligi, kada je kao u transu zatrpao koš Mege i meč završio sa 46 poena (isti je kasnije oborio njegov timski kolega Fets Rasel za svega jedan poen).
Pamtimo ga kao dječaka koji je letio kroz vazduh i moćno zakucavao, vraća se kao lider sa snajepskim sposobnostima.
Vlado dobro došao nazad!