Zena Edosomwan is the new Krka player
Wednesday, 16. August 2023 at 12:11
The 29-year-old and 206cm tall American player Zena Edosomwan is the new member of Krka Novo mesto.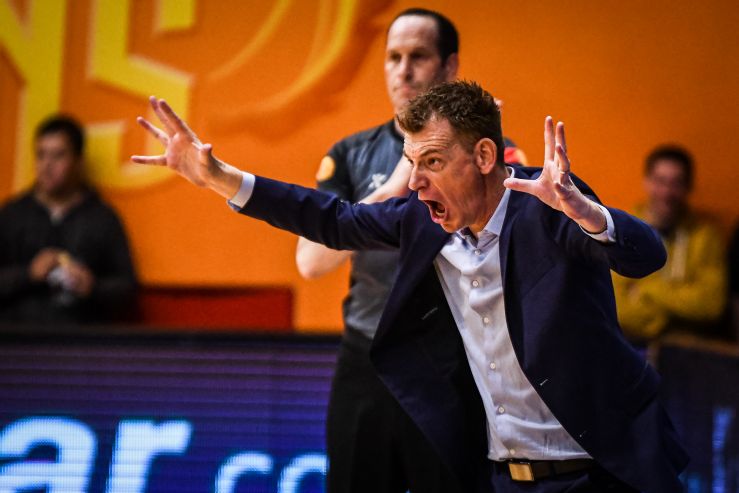 Gasper Okorn (Photo: ABA League j.t.d./Dragana Stjepanovic)
"It's an honour and a privilege to be a part of the unbelievable tradition and championship-winning culture that Krka possesses. I am thrilled and am looking forward to start working together with my teammates and coaches. I believe that we will manage to build the winning mentality outside of the court as well, together with our teammates," the new center of the Novo mesto squad is looking forward to arrival in Dolenjska.
Zena Edosomwan has been born in Los Angeles and started playing basketball as early as a 7-year-old child. In 2017 he graduated at Harvard University. After his college career he played in Mexico (Gigantes de Jalisco), Canada (Ottawa Blackjacks and Sudbury Five) and Finland (Helsinki Seagulls).
Last season he has became the Finnish National Champion with the Seagulls, as he has been averaging 12.3 points, 10.9 rebounds and 1.1 assists per game.
---------------------
Zena Edosomwan novi član Krke
Novi član novomeške Krke je postal 29-letni in 206 centimetrov visoki ameriški košarkar Zena Edosomwan.
"V čast in privilegij je biti del neverjetne tradicije in šampionske kulture, ki jo premore Košarkarski klub Krka. Navdušen sem in se veselim, da bom začel delati s svojimi soigralci in trenerji. Prepričan sem, da nam bo uspevalo tudi s pomočjo navijačev graditi zmagovalno mentaliteto na in zunaj parketa," se prihoda na Dolenjsko veseli novi center novomeške ekipe.
Zena Edosomwan se je rodil v Los Angelesu, košarko je začel igrati pri sedmih letih. Leta 2017 je na univerzi Harvard diplomiral iz vzhodnoazijskih študij. Po končanem igranju v Ligi NCCA je igral v Mehiki (v ekipi Gigantes de Jalisco), Kanadi (Ottawa Blackjacks in Sudbury Five) in na Finskem (Helsinki Seagulls).
V kanadski ligi, ki se je sklenila pred dnevi, je novi center naše ekipe z ekipo Ottawe prišel do četrtfinala. V letošnji sezoni je na tekmo (odigral jih je 13) beležil po 9.3 točke, 8.8 skoka in 1.4 asistence.
V minuli sezoni se je uspešno preizkusil tudi v Evropi. Na Finskem je z ekipo Seagulls postal državni prvak. Na Finskem je zabeležil 44 tekem, v povprečju je 12.3 točkam dodal 10.9 skoka in 1.1 asistence na obračun.