Jakov Mustapić returns to Cibona signing a two-year deal
Wednesday, 16. August 2023 at 21:01
Jakov Mustapić returns to Cibona, where he spent two seasons.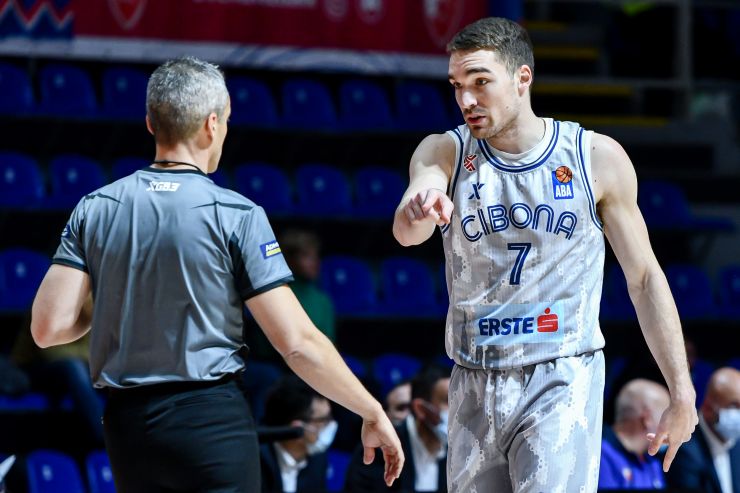 Jakov Mustapic (Photo: AdmiralBet ABA League/Dragana Stjepanovic)
Jakov Mustapić is the latest Cibona signing!
Jakov spent last season playing for Cedevita Junior, he averaged 10.3 points and 3.5 assists per game in the Croatian league.
Throughout his career, he played for numerous Croatian clubs and played in Poland and Bosnia and Herzegovina. Mustapić has also spent time as a member of the Croatian national team.
28-year-old Mustapić played for Cibona in the 2020/21 and 2021/22 seasons.
------------
Rođeni Zagrepčanin Jakov Mustapić novi je igrač Cibone!
Jakov je proteklu sezonu odradio u Cedeviti Junior, klubu u kojem je prošao sve mlađe selekcije. Za momčad s Velesajma prosječno je ubacivao 10.3 poena i dijelio 3.5 asistencije u HT Premijer ligi.
Tijekom karijere nosio je dresove brojnih hrvatskih klubova i igrao u Poljskoj te Bosni i Hercegovini. Osim toga, Mustapić je i povremeni hrvatski reprezentativac.
28-godišnji Jakov za naš je klub igrao u sezonama 2020./21. i 2021./22., a nebrojeno je puta isticao kako je kao dijete odrastao na žutom teleskopu i da mu je potpis za Cibonu ostvarenje dječačkog sna.
Jakove, dobro nam došao ponovno pod Toranj, želimo ti puno uspjeha u najdražem dresu!