Tomislav Mihael Buljan is new Cibona player
Thursday, 17. August 2023 at 12:58
Tomislav Mihael Buljan is the new player of Cibona, as he signed a 3-year deal with the club of Zagreb.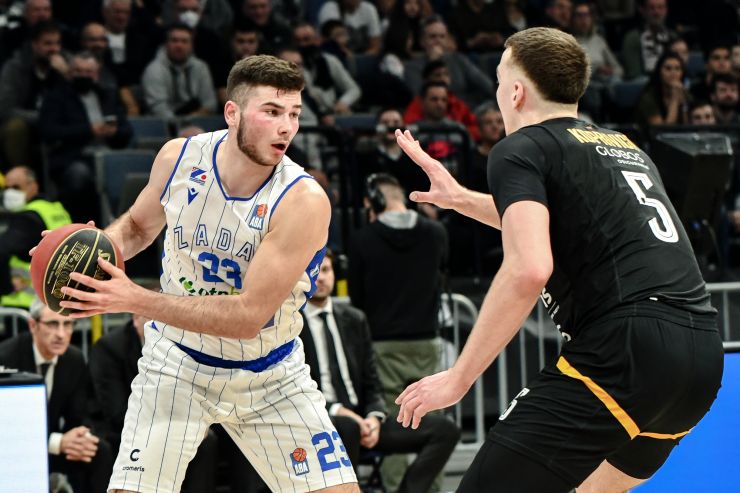 Tomislav Buljan (Photo: Partizan NIS/Dragana Stjepanovic)
Tomislav Buljan is a Split-born player and he started playing basketball in the club KK Mislav of Podstrana. With 15 years of age, he moved to Zadar, wherehe earned himself a title of the MVP of the Croatian Junior National Championship.
Afterwards he moved on to the professional basketball and played in the AdmiralBet ABA League.
Last season Buljan signed with Joventut, which sent him on a loan to CB prat, for which he has been averaging 12.8 points and 6.5 rebounds.
The 20-year old center used to play for all of the youth categories of Croatia National Team. He is considered to be one of the most promising Croatian frontcourt players and he also already made a debut for the Senior Croatia National Team.
--------------------
Tomislav Buljan novi igrač Cibone
Tomislav Mihael Buljan novi je igrač Cibone, a s zagrebačkim klubom potpisao je trogodišnji ugovor.
Buljan je rođeni Splićanin, a košarku je počeo igrati u redovima KK Mislav iz Podstrane. S 15 godina prelazi u KK Zadar gdje postaje MVP juniorskog prvenstva Hrvatske, kreće u seniorsku košarku te nastupa u ABA ligi.
Prošlog ljeta Tomislav je potpisao za španjolski Joventut koji ga je proslijedio na posudbu u CB Prat, a u čijim je redovima prosječno ubacivao 12.8 poena uz 6.5 skokova.
20-godišnji centar prošao je mlađe dobne kategorije hrvatske reprezentacije i slovi za jednog od najperspektivnijih hrvatskih košarkaša na visokim pozicijama, a debitirao je i za seniorsku vrstu.