Cibona pen a 3-year deal with Matej Bošnjak
Thursday, 17. August 2023 at 20:24
Another newcomer has landed in Zagreb!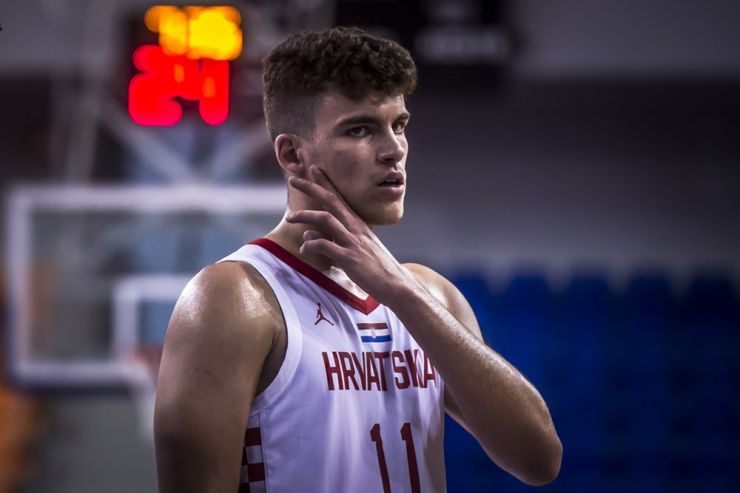 (Photo: FIBA)
Another newcomer has landed in Zagreb!
Cibona announced that they have signed a 3-year deal with Matej Bošnjak.
This 21-year-old center made his first basketball steps in BC Zagreb, while he then joined Cedevita Junior where he started his pro career in the 2021/22 season.
Last summer he moved to Dubrava Furnir where he averaged 15.5 points and 6.5 rebounds in the 2022/23 Croatian National Championship.
Bošnjak has played for all youth selections of the Croatian National Team, while he was the captain of the U16 selection that won the gold medal at the U16 FIBA EuroBasket 2018 held in Novi Sad.
Cibona have so far signed contracts with 5 new players, including Alex Stein (Hubo Limburg United), Domagoj Proleta (Circus Brussels), Jakov Mustapić (Cedevita Junior), Tomislav Mihael Buljan (Prat) and Matej Bošnjak (Dubrava).
-----------------------
Bošnjak u Ciboni
Matej Bošnjak novo je ime pod Tornjem, a potpisan je trogodišnji ugovor!
Bošnjak je ponikao u KK Zagreb da bi potom prešao u Cedevitu, a kasnije potpisao ugovor s Cedevitom Olimpijom. Proteklu sezonu nastupao je za KK Furnir u čijem dresu je prosječno ubacivao 15.5 poena uz 6.5 skokova u HT Premijer ligi.
U karijeri ovog 21-godišnjeg centra posebno se ističe 2018. godina kada je kao kapetan odveo kadetsku reprezentaciju Hrvatske do europskog naslova u Novom Sadu.