Nemanja Vranješ will spend his seventh season in Mornar-Barsko zlato
Sunday, 20. August 2023 at 23:45
Nemanja Vranješ signs a contract extension with Mornar-Barsko zlato, his seventh season representing the pride of Bar.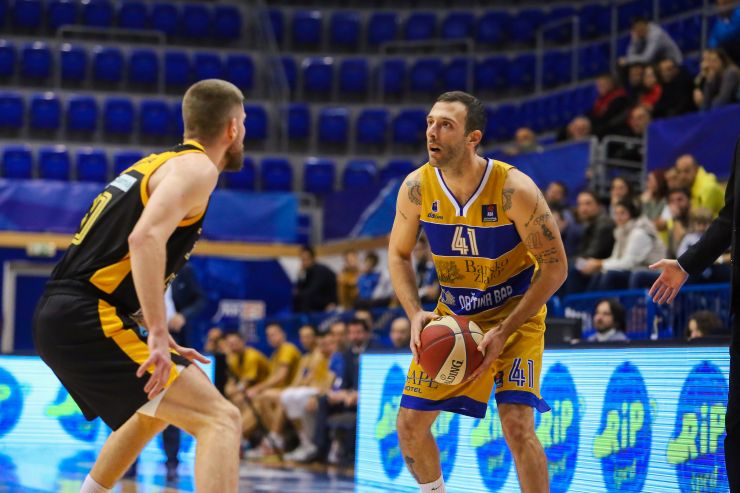 Nemanja Vranjes (Photo: Mornar-Barsko zlato/Media Pro)
Nemanja Vranješ will wear the Mornar-Barsko zlato jersey for a seventh season!
The thirty-five-year-old guard arrived in Bar in 2017 and took part in the club's greatest competitive success in the same season - winning the national championship. With Mornar, he twice reached the semi-finals of the AdmiralBet ABA league playoffs and played in the round of 16 of the Eurocup.
One of the best Mornar-Barsko zlato shooters of all time became a fan favorite due to his grit and loyalty to the club.
---------
Nemanja Vranješ nosiće dres Mornara i sedmu sezonu zaredom!
Naravno, sa kapitenskom trakom.
Tridesetpetogodišnji bek stigao je u "Ponos Bara" 2017. godine i iste sezone učestvovao u najvećem takmičarskom uspjehu kluba - osvajanju nacionalnog šampionata. Sa Mornarom je dva puta stigao do polufinala plej ofa ABA lige, igrao u osmini finala Eurokupa...
Jedan od najboljih šutera Mornara svih vremena postao je miljenik barske publike zbog borbenosti i odanosti klubu, što je najpopularniji barski rok bend Akademija ovjekovječio u navijačkoj numeri "Vranjoza, Vranjoza, Vranjoza".
Vranješ je u svojoj prvoj sezoni u Baru ubacio Crvenoj zvezdi u polufinalu ABA lige 29 poena (6 trojki) što je i dalje njegov košgeterski rekord u regionalnom šampionatu.