Tay Waller is coming back to Mornar-Barsko zlato
Thursday, 24. August 2023 at 12:30
For the second time in his playing career Tay Waller is coming back to Mornar-Barsko zlato.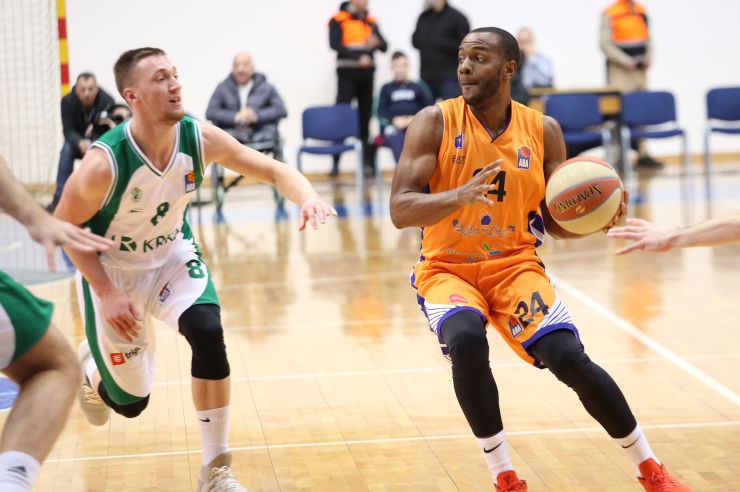 Antabia Waller (Photo: Mornar/Media Pro)
The 35-year old Tay Waller used to defend the colours of the Bar squad in the 2016/17 season and later between 2018 and 2020. For the past two seasons, the player, that has became a fan's favourite in Topolica Sports Hall with his three-pointers, has been playing in Laktaši for Igokea m:tel.
So far, Mornar-Barsko zlato have agreed on cooperation for the next season with Jamal Johnson, Dwight Murray Jr., Makol Mawien Milić Starovlah, Alex Gavrilović and Jacobi Boykins, while extending contracts with Nemanja Vranješ and Milija Miković.
---------------------
U Mornar se vraća Taj Voler
U Mornar se (drugi put) vraća Tay Waller!
Tridesetpetogodišnji Amerikanac branio je boje "Ponosa Bara" u sezoni 2016/17 i potom od 2018 do 2020. Prethodne dvije godine, košarkaš koji je osvojio srca navijača Mornara trojkaškim kanonadama nastupao je za Igokeu.
U svojoj prvoj sezoni u ABA ligi 2017. godine postigao je 33 poena na meču protiv Budućnosti (78:71), što mu je rekordan učinak na jednom meču u regionalnom šampionatu.
Mornar je do sada angažovao Džamala Džonsona, Dvajta Mareja, Makola Maivena, Milića Starovlaha, Alexa Gavrilovića i Džejkobi Bojkinsa, i produžio ugovore sa Nemanjom Vranješom i Milijom Mikovićem.