Nikola Radičević joins Cedevita Olimpija
Sunday, 27. August 2023 at 10:01
Cedevita Olimpija strengthened its point guard position with Nikola Radičević. Radičević spent the 2022/23 season in Bilbao, Spain.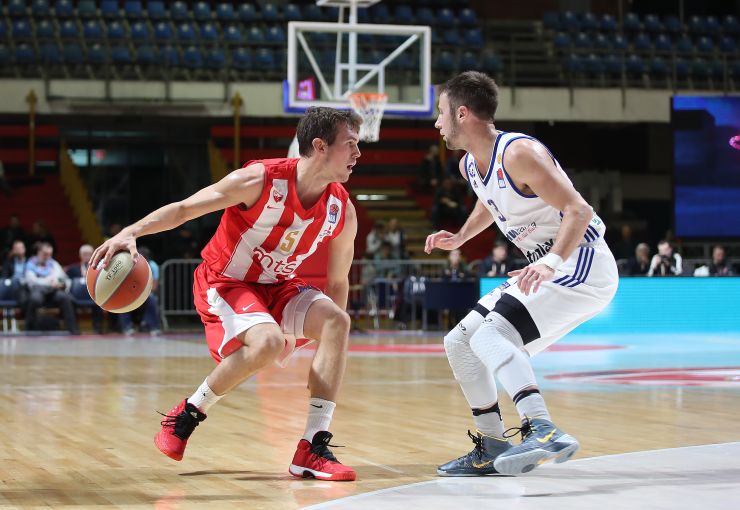 Nikola Radicevic (Photo: Crvena zvezda mts)
Nikola Radičević, who spent last season in Bilbao, is the new member of Cedevita Olimpija and will join the training camp of the Ljubljana team in the coming days. In 2015, Radičević was selected by the Denver Nuggets as the 57th overall pick in the NBA draft.
In the 2022/23 season, he appeared in ten Champions League games with Bilbao and averaged 5.2 points, 3.2 assists and 0.9 rebounds per contest. In 28 ACB League games, he has been putting on 6.2 points, 3.1 assists and 1.5 rebounds per game.
"I am very happy to have become part of Cedevita Olimpija. I am pleased to be part of a new project that began with the arrival of a new head coach and sports director. I can't wait to join my teammates. I hope we get along well, play good basketball to achieve competitive goals, and that the fans enjoy our game," said Nikola Radičević upon joining Cedevita Olimpija.
Radičević started his career in the ranks of Partizan Belgrade, and then in 2012 he moved to Sevilla, where he was part of the members' team and teams of younger age categories, and in the 2014/15 season he finally won his place in the members' lineup. It was with Sevilla that he also spent two seasons in the EuroCup, in which he also played with Gran Canaria, Trento, Promitheas and Lietkabelis, and in the 2021/22 season he last played in the second strongest European competition in the jersey of the Lithuanian club. In total, he played in 48 games in the EuroCup, averaging 6.6 points, 3.3 assists and 1.6 rebounds per game.
In his youth, Radičević used to be a part of the Serbian national teams in younger categories, among other things, with the U18 National Team, he won a silver medal in 2011 and a bronze medal in 2012 at the European Championship. In 2009, he won bronze with the U16 National Team at the European Championship. In 2012, he was also selected in the top five of the U18 European Championship.
--------------------
Nikola Radičević okrepil Cedevita Olimpijo
Na položaju organizatorja igre se je Cedevita Olimpija okrepila z Nikolo Radičevićem. Slednji je sezono 2022/23 preživel v španskem Bilbau.
Nikola Radičević je najnovejša okrepitev članske ekipe Cedevite Olimpije za tekmovalno sezono 2023/24. Srbski košarkar, ki je minulo sezono preživel v španskem Bilbau, je že v Ljubljani, kjer se bo treningom Zmajev pridružil v najkrajšem možnem času. Leta 2015 je bil Radičević s strani Denver Nuggets kot 57. po vrsti izbran tudi na naboru Lige NBA.
V tekmovalni sezoni 2022/23 je z Bilbaom zaigral na desetih tekmah Lige prvakov in v povprečju beležil 5,2 točki, 3,2 asistenci in 0,9 skoke na obračun. Na 28 tekmah Lige ACB je dosegal 6,2 točke, 3,1 asistence in 1,5 skoke na tekmo.
"Zelo srečen sem, da sem postal del ekipe in organizacije pri Cedeviti Olimpiji. Zadovoljen sem, da bom del novega projekta, ki se je začel s prihodom novega glavnega trenerja in športnega direktorja. Komaj čakam, da se pridružim soigralcem. Upam, da se bomo dobro ujeli, igrali lepo košarko, s katero želimo doseči tekmovalne cilje, in da bodo navijači uživali v naši igri," je ob podpisu pogodbe povedal Nikola Radičević.
Svojo kariero je Radičević začel v vrstah beograjskega Partizana, nato pa se je leta 2012 preselil v Sevillo, kjer je bil del članske ekipe in ekip mlajših starostnih kategorij, v sezoni 2014/15 pa si je dokončno izboril mesto v članski zasedbi. Prav s Sevillo je dve sezoni preživel tudi v Evropskem pokalu, v katerem je med drugim igral tudi z Gran Canario, Trentom, Promitheasom in Lietkabelisom, v dresu litovskega kluba pa je v sezoni 2021/22 tudi nazadnje igral v drugem najmočnejšem evropskem tekmovanju. Skupno je v EuroCupu zaigral na 48 tekmah, v povprečju pa dosegal 6,6 točke, 3,3 asistence in 1,6 skoka na tekmo.
Radičević je bil v svoji mladosti del srbskih reprezentanc mlajših starostnih kategorij, med drugim pa je z reprezentanco do 18. leta v letu 2011 osvojil srebrno, leta 2012 pa bronasto medaljo na evropskem prvenstvu. Leta 2009 je z reprezentanco do 16. leta na evropskem prvenstvu osvojil bron. Leta 2012 je bil izbran tudi v najboljšo peterko evropskega prvenstva za fante do 18 let.