Đoko Šalić joins Borac Mozzart for the upcoming season
Sunday, 27. August 2023 at 14:52
Đoko Šalić is the latest addition to the Borac Mozzart squad, reinforcing their center position.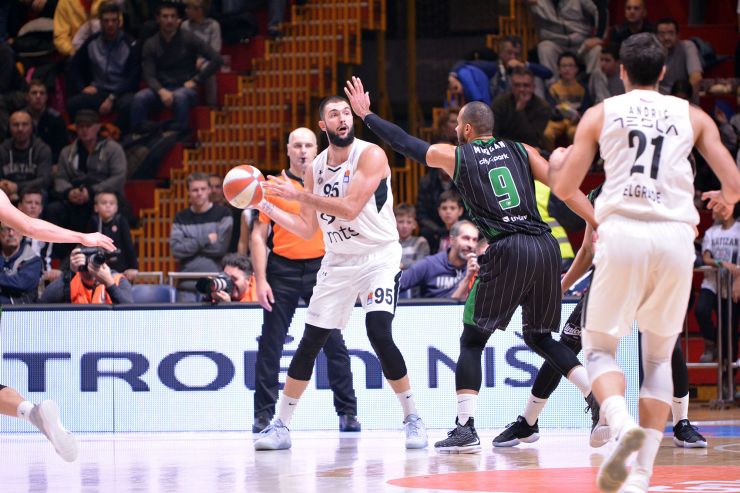 Djoko Salic (Photo: Partizan NIS)
Borac Mozzart found a solution at the center position after signing Đoko Šalić for the upcoming season. Šalić signed a one-year deal with the club from Čačak.
The 210cm tall Šalić first started his career representing Partizan Mozzart Bet, where he played in the 2013/2014 season. Later he moved to Spars Ilidža from Sarajevo, Sutjeska, then returned to Partizan Mozzart Bet, he also spent time with the Helios Suns, Dynamic, and last season he played in France.
----------------
KK Borac Mozzart uspeo je da pronađe rešenje za mesto klasične petice, jedino koje je do ovog momenta bilo kudikamo deficitarno. A ime za koje se se uprava kluba i stručni štab odlučili jeste Đoko Šalić (27, 210), iskusni centar rođen u Sokolcu.
Klub iz grada na Moravi i prekaljeni košarkaš sklopili su saradnju koja će, na obostrano zadovoljstvo, potrajati u narednih godinu dana.
Nema sumnje, tim Dejana Mijatovića će puno dobiti dolaskom u prvim tim Đoka Šalića, jer je reč o sportisti bogate igračke karijere. Inače, on je prvi profesionalni ugovor sklopio sa Partizanom, za koji je igrao u sezoni 2013/2014. Zatim su usledile partije u Sparsu iz Sarajeva, Sutjesci, onda ponovo u Partizanu, zatim u Heliosu Sans, Dinamiku, Mladosti iz Mrkonjić Grada, Šćećinu, Čerkaski Mavpiju, Slobodi iz Tuzle, Labasu, a poslednju sezonu je proveo u Francuskoj.
Đoko Šalić ima i iskustvo igranja u mlađim selekcijama naše zemlje. Sa U19 timom je 2013. godine osvojio srebrnu medalju na Svetskom prvenstvu u Pragu.
Nije zgoreg pomenuti da je Đoko Šalić osmo pojačanje Borca Mozzart ovog leta. Pre njega, u klub su stigli Nikola Manojlović, Ronaldo Segu, Tajlan DžamonBirts, Darko Talić, Kruz Perot-Hant, Filip Rebrača i Džavon Frenklin.