Team is currently not a member of ABA Liga j.t.d.. Its data may not be updated.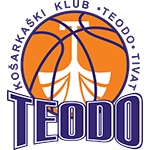 Beginnings
: Basketball club Teodo (the name derives from the old name of the town of Tivat) was established in 2004, but its tradition derives from 70 years backwards, when basketball club Arsenal was founded in Tivat. The fans of Teodo are proudly claiming that they have been the ones that introduced basketball to Montenegro, as the history books tell that the first basketball game in the country was the clash between Arsenal and Bokelj in 1948.
Glory Days
: The club has been making progress step by step during the 13 years of its establishment. During the 2016/17 season the team became the first placed in the Montenegrin national championship regular season and semi-finalists of domestic championship and cup and also Balkan League at the same time.
Club Information
Administration
| | |
| --- | --- |
| President: | Risto Lučić |
| General Manager: | Ivica Radovanović |
Venue
Sportska dvorana Župa
Župa bb, 85320 Tivat SHOW MAP
Team Roster, Season 2017/18
| # | Name | Position | Height | Date of Birth | Nationality |
| --- | --- | --- | --- | --- | --- |
Club Statistics
Game Stats
overall
FG2
FG3
FT
Rebs
Blck
Foul
Pts
%
M
A
%
M
A
%
M
A
%
D
O
T
Ass
St
To
Fv
Ag
Cm
Rv
Val
FG2, FG3 - Field Goals
M - Made
Ag - Against
Rebs - Rebounds
St - Steals
FT - Free Throws
A - Attempted
Foul - Foul
D - Defensive
To - Turnover
Min - Minutes
Blck - Blocks
Cm - Committed
O - Offensive
Val - Index Value
Pts - Points
Fv - in Favoure of
Rv - Received
Ass - Assists
W - Won, L - Lost