Team is currently not a member of ABA Liga j.t.d.. Its data may not be updated.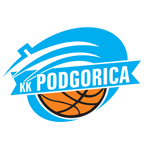 Beginnings
Basketball Podgorica was founded in 2007 and the main focus of the youngest basketball club in Montenegro was to develop young players. Since the first day it's goal was to broaden the base of domestic players, in which they have succeeded.
Glory Days
After years without senior team, Podgorica have formed their senior squad in 2019/20 season and managed to qualify for the first division of Montenegrin club basketball. In the 2020/21 season, the club also became a member of the ABA League 2 and tasted the sweetness of playing amongst the elite regional clubs in the second-tier regional competition.
Club Information
Administration
| | |
| --- | --- |
| President: | Vladan Ivanović |
| General Manager: | Zoran Vujičić |
Venue
Bemax arena
Ivana Milutinovića 1, 81000 Podgorica SHOW MAP
Team Roster, Season 2020/21
| # | Name | Position | Height | Date of Birth | Nationality |
| --- | --- | --- | --- | --- | --- |
Club Statistics
Game Stats
overall
FG2
FG3
FT
Rebs
Blck
Foul
Pts
%
M
A
%
M
A
%
M
A
%
D
O
T
Ass
St
To
Fv
Ag
Cm
Rv
Val
FG2, FG3 - Field Goals
M - Made
Ag - Against
Rebs - Rebounds
St - Steals
FT - Free Throws
A - Attempted
Foul - Foul
D - Defensive
To - Turnover
Min - Minutes
Blck - Blocks
Cm - Committed
O - Offensive
Val - Index Value
Pts - Points
Fv - in Favoure of
Rv - Received
Ass - Assists
W - Won, L - Lost