Team is currently not a member of ABA Liga j.t.d.. Its data may not be updated.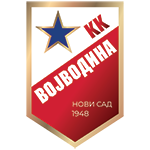 Beginnings
: The club has been established on 22 December 1948. For the first time Vojvodina joined the top-tier level of the competition in Yugoslavia in 1974, but returned to the B division the next season. In 1987 Dušan Ivković took over the club and led it towards the First Federal Yugoslav National League.
Glory Days
: Vojvodina achieved its best score in the Yugoslavian national championships in 1989/90, as it took the fifth place and afterwards beat Partizan 2:1 in victories in the Playoffs, qualifying for the European cups for the first time in the club's history, as it played in Radivoj Korać Cup. They repeated the same success next year. In the 2020/21 season, Vojvodina qualified for the Final Tournament of the domestic cup competition and reached the Semi-finals, when it lost to Mega Soccerbet.
Club Information
Administration
| | |
| --- | --- |
| President: | prof. dr Bogdan Kuzmanović |
| General Manager: | Mićo Radanović |
Venue
Mala i velika sala JP
Sutjeska 2, p.fah 4, 21000 Novi Sad, Serbia SHOW MAP
Trophy Case
Club Transfers
Players left Season 2022/23
Marko Ljubičić
Players arrived Season 2022/23
Nemanja Popović (Crvena zvezda mts)
Club Statistics
Game Stats
overall
FG2
FG3
FT
Rebs
Blck
Foul
Pts
%
M
A
%
M
A
%
M
A
%
D
O
T
Ass
St
To
Fv
Ag
Cm
Rv
Val
FG2, FG3 - Field Goals
M - Made
Ag - Against
Rebs - Rebounds
St - Steals
FT - Free Throws
A - Attempted
Foul - Foul
D - Defensive
To - Turnover
Min - Minutes
Blck - Blocks
Cm - Committed
O - Offensive
Val - Index Value
Pts - Points
Fv - in Favoure of
Rv - Received
Ass - Assists
W - Won, L - Lost