What a game! Budućnost VOLI win the local derby against Mornar!
Sunday, 11. November 2018 at 18:58
The Blue squad have scored their 1st ever away win in Bar in the regional league.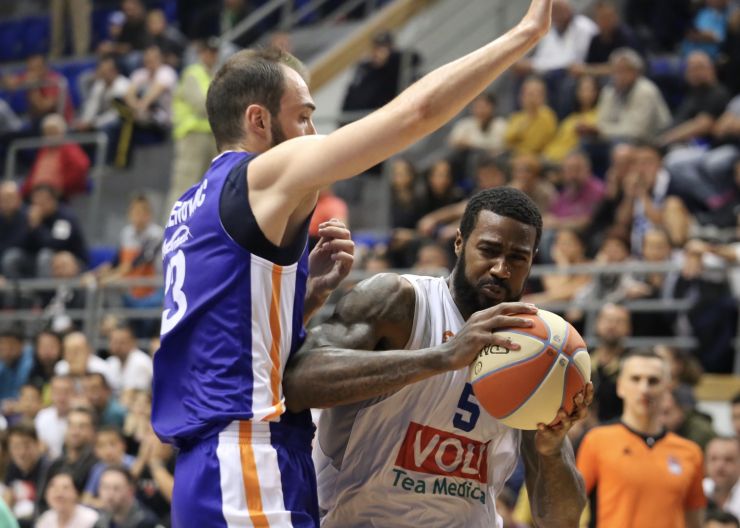 Earl Clark (Photo: Mornar/Media Pro)
ABA League Round 7, Sunday, 11.11.2018:
Mornar - BUDUĆNOST VOLI 95:99 (25:32, 18:30, 23:20, 29:17)
Game recap: What a game! Budućnost VOLI have scored their 1st ever away win against Mornar in the regional league after a dramatic finish! The visitors were up by 16 points before the last quarter, but they had to put maximum effort in the last few minutes to stay in front.
Key moments: The score at the end of the 3rd quarter was 66:82. At that point it seemed that everything is over, but Mornar refused to surrender. With Bronson Koenig on fire (made 5 three-pointers in the last quarter), the home team reduced the gap to just 1 point - 88:89, with 3 minutes left on the game clock! However then Earl Clark scored such an important 3-pointer for Budućnost VOLI - 88:92.
Mornar had once last chance to complete this stunning comeback. At the score 92:96, Nemanja Vranješ was all alone at the 3-point line, but he missed the shot.
Man of the match: Nemanja Gordić was once again a true leader of Budućnost VOLI. He scored 14 points only in the 1st quarter, while he finished the match with 21 points, 6 rebounds and 4 assists. He also made some key shots for his team in the last few minutes.
It is also worth mentioning that Bobby Brown made a fantastic debut for Mornar. He scored 25 points and had 9 assists.
Can't trick the stats: Mornar conceded 62 points in the 1st half! 62!!! It is a true miracle that they had a chance to win this match after allowing their opponents to score so many points until the halftime.