Partizan NIS grab an overtime win in nearly packed Višnjik
Saturday, 19. January 2019 at 17:00
Partizan NIS have grabbed an overtime triumph on the road in almost full Krešimir Ćosić Hall in Zadar and continue to strengthen their Playoffs position with 6 rounds remaining in the regular season.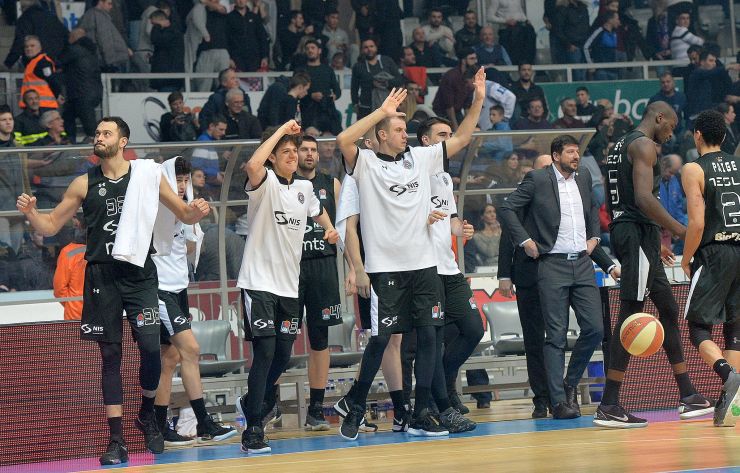 Partizan NIS team (Photo: Zadar/Zvonko Kucelin)
ABA League Round 16, Saturday, 19.1.2019:
Zadar - PARTIZAN NIS 92:97 (23:20, 23:30, 19:19, 17:13, 10:15)
Game recap: Partizan NIS have made another step towards securing themselves a spot in the ABA League Playoffs, as they have managed to beat Zadar on the road in Krešimir Ćosić Sports Hall in front of an almost packed arena. The black and white now have 10 triumphs on their record and will be placed in the fourth place after 16 rounds. On the other side, Zadar continue their struggle to avoid the danger zone at the bottom of the standings with 5 triumphs grabbed in 16 games.
Key moments: Partizan NIS have come in front in the final moments of the first half and were in the lead throughout the second one, but they haven't really managed to pull away all until the end, so the teams went to overtime!

In the extra period, the teams were tied for the last time at 4 and a half minutes until the end (86:86), but then Marcus Paige stepped up for Partizan NIS and scored two 3-pointers, to put his team up with the score 92:88 with 2 minutes remaining on the overtime clock. As it turned out, Zadar never managed to even tie the score after that. Vanja Marinković simply confirmed the win with a three-pointer late in the overtime to set the final score.
Man of the match: Marcus Paige! He did not only score the crucial three-pointers, but has also led his team in scoring with 28 points (7/10 from behind the 3-point line), while adding 2 rebounds, 2 assists, 2 steals and a valuation of 29 to his stats. He is our man of the match!
Can't trick the stats: Partizan NIS have outrebounded Zadar 37:28. That's what turned the game their way.