Match of the round: Battle for Playoffs in Belgrade
Friday, 25. January 2019 at 11:59
In the second game of the Saturday night in the ABA League, Partizan NIS will be hosting Mega Bemax at home in Aleksandar Nikolić Sports Hall and the outcome of the game will be extremely important in the light of the battle for the last remaining spot in the ABA League Playoffs.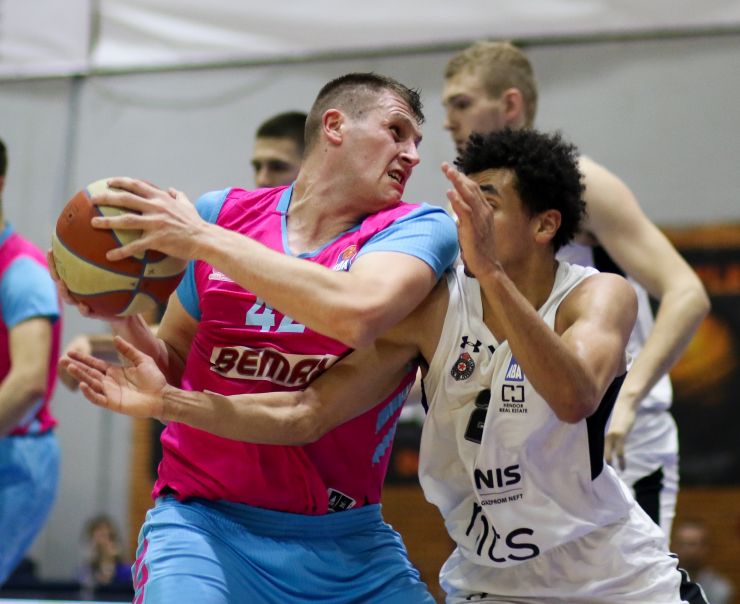 Stefan Fundic (Photo: Mega Bemax/Ivica Veselinov)
ABA League Round 17, Saturday, 26.1.2019:
Where? Aleksandar Nikolić Hall, Belgrade
When? 19:00
Story of the game: In Belgrade, Partizan NIS will be hosting Mega Bemax. After 16 rounds have been played in the ABA League, Partizan NIS are holding the fourth place in the standings with ten victories, while Mega are just a place below them with one triumph less on their record.
Having that in mind, one needs no extra explanation on why this game carries such importance. The one that celebrates a triumph, will be in a favourable position ahead of the remaining five rounds in the ABA League season.
Both teams have been on the winning track recently, as Partizan NIS are on a four-game winning streak and have won four of their last five games, while Mega Bemax have returned to the winning path last round and have won two of their last five games.
What about tradition? It is absolutely on the side of the black and white, as they have won 9 of their 11 games played one against another in the regional competition so far and four of their five in Belgrade.
Match-up in focus: Jock Landale against Zoran Nikolić! While Zoran Nikolić is proving himself to be a nice replacement for the departed Goga Bitadze at Mega Bemax, he will now have to prove himself against one of the best centers in the region. Currently, Nikolić is the second-best scorer at Mega with 10.2 points scored per game, while Landale comes third in the ranks of Partizan NIS with 11.2. And while Landale is having 6.4 points per game, Nikolić is having 6 on average. Which one will shine brighter this time around?
Head to head in the regional league: In total 9:2; In Belgrade 4:1.