Giant leap towards Playoffs for Partizan NIS
Saturday, 26. January 2019 at 19:00
In the match of the 17th round, Partizan NIS have beaten Mega Bemax in local clash against Mega Bemax and got away with a victory from the clash against their main rivals for a Playoffs spot.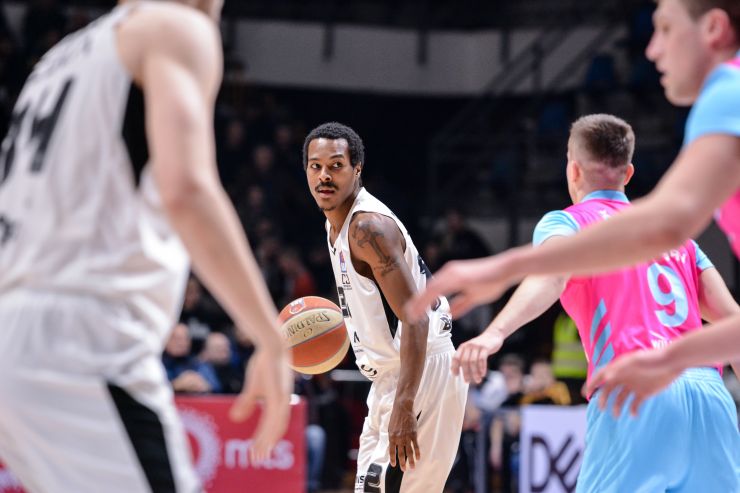 Alex Renfroe (Photo: Partizan NIS)
ABA League Round 17, Saturday, 26.1.2019:
PARTIZAN NIS - Mega Bemax 98:86 (19:18, 31:22, 21:27, 27:19)
Game recap: Partizan NIS are one (big) step closer to 2019 ABA League Playoffs, as they have outscored Mega Bemax at home in the match of the 17th round, which was also a clash of two main rivals in the battle for a spot in the ABA League Playoffs. After 17 rounds, Partizan NIS will be occupying the fourth spot with 11 victories, while Mega Bemax will stay a place below them with 9. This means that the black and white now have a great position with 5 rounds to go in the regular season.
Key moments: Partizan NIS went off to a fantastic start the the game, as they led with the score of 8:0 after 2 minutes of the game, but this did not stop Mega Bemax from fighting on for the victory and they made it an even game until the end of the quarter, when the hosts were up by only a point (19:18).
They remained close until the beginning of the last quarter, when the margin was 4 points (71:67), but then 14:4 run followed by Partizan NIS over the next three minutes and the hosts went up by 14 points (85:71). As it turned out, this run was crucial for the outcome of the game, as Mega did not manage to threaten Partizan's lead again until the end.
Man of the match: Aleksej Nikolić! Partizan NIS young gun has revealed his full potential in the game against Mega Bemax, as he led his team to the victory with 20 points (3/6 for 3 points), 5 rebounds, 1 steal and a valuation of 26! He is our man of the match!
Can't trick the stats: Partizan NIS were shooting three-pointers 12/22 (55%). That's what steered them towards the win in the local derby.