Crvena zvezda mts are back on the ABA League throne
Monday, 22. April 2019 at 19:00
Crvena zvezda mts have beaten Budućnost VOLI in Game 5 of the ABA League Finals and are back at the top of the regional basketball after a year of break.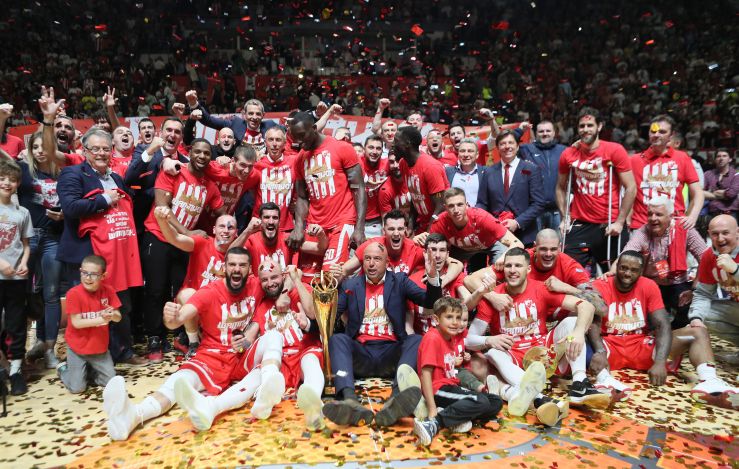 Crvena zvezda mts team (Photo: Crvena zvezda mts)
ABA League Finals, Round 5, Monday, 22.4.2019:
CRVENA ZVEZDA MTS - Budućnost VOLI 97:54 (18:13, 29:8, 27:16, 23:17) * series score 3:2
Game recap: Crvena zvezda mts are the new ABA League champions, as they have beaten Budućnost VOLI convincingly in the decisive Game 5 of the Finals, winning the series with a 3:2 score in the end. After they have won the first two games of the series and lost the next two, on the road in Podgorica, they have been the best when it mattered the most and have made their return to the ABA League throne after a year of break. The success of the red and white is seen as fully deserved, as they have also been the first placed after regular season, losing only 1 game in the 22 rounds of the regular season, previously.

Key moments: Crvena zvezda mts squad made things clear already in the opening half, as they went up by 26 points in the opening 20 minutes. Between 13th minute and halftime, they have allowed Budućnost VOLI to score only 1 point and with 18:1 run they went ahead 47:21 at halftime. There was no chance of a return for the guests.

Man of the match: KC Rivers has demonstrated that when he arrived to Crvena zvezda mts midway through the ABA League season, he came as the proper reinforcement. In the decisive game of the Finals he led the red and white in scoring with 21 points, while adding 6 rebounds and a block to his stats for game-high valuation of 21. He is our man of the match!

Can't trick the stats: Just as the final score suggests, Crvena zvezda mts were the better of the two teams basically in all of the statistical categories. They won the game fully deservedly!