Analysis: ABA League Top Scorers
Wednesday, 23. October 2019 at 09:00
Through 3 rounds, 13 ABA League players are averaging over 15 points per game.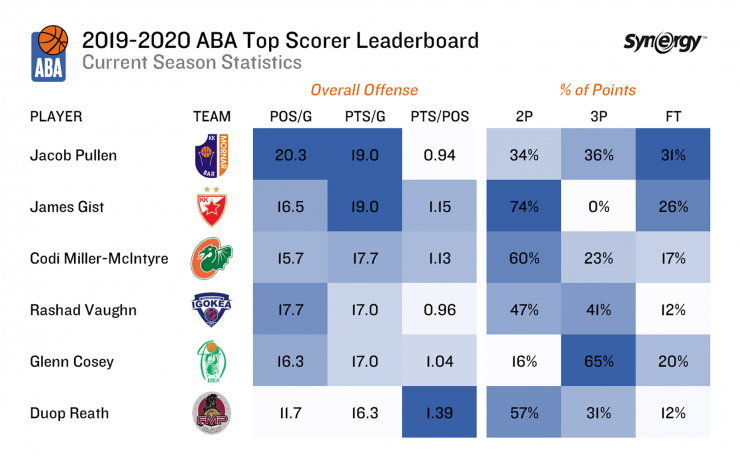 (Photo: Synergy Sports Technology)
The ABA League season is still in its early stages but several players have separated themselves from the pack in terms of points per game. The table above lists the league's top-6 scorers as well as what percentage of their points come from two-point shots, three-point shots, and free throws.
Digging Deeper
Duop Reath may be at the bottom of this list, but he has been the league's most efficient high-volume offensive player to this point. Showing significant improvement in his second season with FMP, Reath has spaced the floor effectively, scored steadily from the post, and been a factor making hustle plays with his size in the open floor and on the offensive glass. Shooting 76% around the rim, the 23-year-old has been key to FMP's undefeated start.
Glenn Cosey has been the most prolific three-point shooter among top scorers to this point. Attempting nearly 90% of his shots from the perimeter, his ability to create separation off the dribble has been a major part of Krka's offense.
Rashad DeAndre Vaughn has acclimated well to his first overseas experience scoring perimeter jumpers as prolifically as any player in the ABA League.
Codi Miller-McIntyre has been dynamic off the dribble and consistent from the perimeter in guiding Cedevita Olimpija to an undefeated start. A crafty three-level scorer, the 25-year-old has lived up to his resume and hit the ground running offensively in his first stint in the ABA League.
James Gist played his first games in the regional competition almost a decade ago, but did not appear in the ABA League again until this season. Even 10 year later, he remains a very formidable finisher with his combination of length and explosiveness. An effortless lob threat who leads all players scoring 7 points per game on rolls to the rim and 6 points per game on cuts, Gist has been impressive around the rim in limited action this season.
The 3rd leading scorer in the ABA League last season, Jacob Pullen has been the competition's most balanced scorer so far this season. His ability to make things happen in the open floor has given him a significant edge, and it will be interesting to see if he can sustain the league-best 6 points per game he's scoring in transition as the season wears on.
Insights and Statistics Provided by Synergy Sports Technology