Budućnost VOLI storm past Mega Bemax
Sunday, 03. November 2019 at 11:58
The Blue troops scored a convincing win in Belgrade.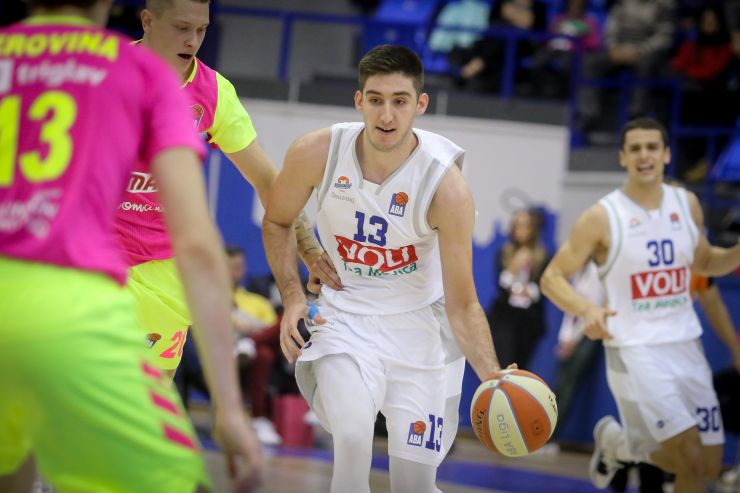 Aleksa Ilic (Photo: Mega Bemax/Ivica Veselinov)
ABA League Round 5, Sunday, 3.11.2019:
Mega Bemax - BUDUĆNOST VOLI 57:94 (21:25, 4:21, 18:28, 14:20)
Story of the game: Well, the final score says it all. Budućnost VOLI had no mercy over young Mega Bemax troops in Round 5 of the 2019/20 ABA League regular season. The Blue troops scored a convincing win in Belgrade and improved their overall score to 4-1. On the other side, Mega Bemax's current season record is 1-4.
What is also important to mention is that Budućnost VOLI have now taken the lead on the ABA League standings, as they have the best point ratio out of all teams with the 4-1 overall score.
Key moments: Let's say that the winner was decided already in the 2nd quarter. The visitors won that period by 21:4 and gained the crucial lead in this match.
Man of the match: Every single player of Budućnost VOLI scored at least 2 points in this match. While the best out of best was Nikola Ivanović who shined in the clash against his former team Mega Bemax. Ivanović had 10 points, 8 assists and 5 rebounds, while his overall index rating was 23.
Can't trick the stats: Mega's offense simply did not today. The home side had 19/47 for 2-points and 3/22 for 3-points. And that's just not enough to beat the reigning vice-champions.