Cedevita Olimpija beat FMP in the battle for the top
Saturday, 16. November 2019 at 20:00
In the second game of the day, Cedevita Olimpija are currently hosting FMP at home in Stožice Arena, Ljubljana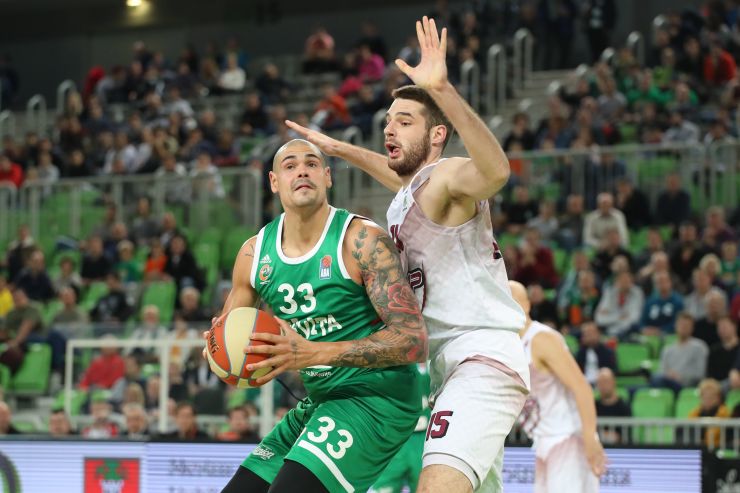 Maik Zirbes (Photo: Cedevita Olimpija/Ales Fevzer)
ABA League Round 7, Saturday, 16.11.2019:
CEDEVITA OLIMPIJA - FMP 93:89 (21:19, 24:20, 28:24, 20:26)
Game recap: Cedevita Olimpija are continuing to play strongly this season, as they have outgunned FMP in the clash of the top of the standings in Stožice Arena. The Ljubljana squad continue the season at the first place, which they now share only with Budućnost VOLI, with six wins out of seven games played so far, while on the other side FMP are placed just beneath them, with one victory less grabbed so far.
Key moments: Cedevita Olimpija were in front by 10 points with 7 minutes to go in the game, but FMP made it an interesting game in the finish, when Ilija Đoković cut the deficit to only 2 points with less than 2 minutes remaining on the clock (87:85). Hopkins scored for Cedevita Olimpija to take the hosts into the final minute with a 4-point lead and afterwards Codi Miller-McIntyre increased it to 6 (91:85) with a bit less than a minute remaining. The battle for the win was over.
Man of the match: Codi Miller-McIntyre! The American steered Cedevita Olimpija to the victory with 21 points, 7 assists, 4 rebounds and a valuation of 27 in 31 minutes spent on court. He is our man of the match.
Can't trick the stats: Cedevita Olimpija have outrebounded FMP 31:27 and that's what put them on top in this tight game.