Big win for Krka against Igokea in Novo mesto
Saturday, 23. November 2019 at 20:00
In the eighth round of the ABA League season, Krka have come up with a hugely important win, which keeps them in the middle of the standings, as they have beaten Igokea at home in Novo mesto.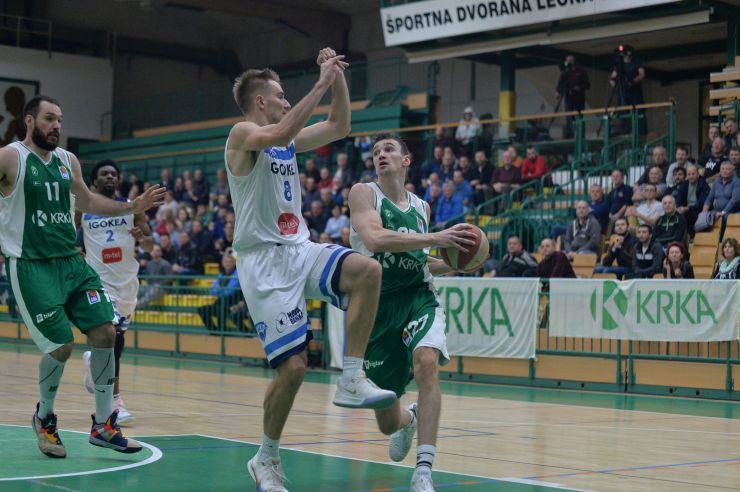 Ivan Ramljak (Photo: Krka/Drago Perko/kosarka.si)
ABA League Round 8, Saturday, 23.11.2019:
KRKA - Igokea 76:75 (15:25, 24:21, 23:17, 14:12)
Game recap: Krka have got away with a huge home win in Novo mesto over Igokea and it is a greatly important triumph for the home side, as this win keeps them in the middle of the standings after 8 rounds played. On the other hand, Igokea will continue their struggle in order to escape the danger zone near the bottom of the standings, with one victory after eight rounds and only Zadar remain behind them currently in the standings.
Key moments: It has been an exciting clash all until the final moments and Igokea were in front throughout the majority of the game. With no more than 45 seconds left, Đorđe Gagić took Igokea in front by 3 points (75:72) and at that point it seemed like the guests would take two points home. However, Luka Lapornik had other plans. He scored to cut the deficit to 75:74 and while Igokea did not manage to score again until the end, Lapornik came up with two successfully executed free throws with 2 seconds left in the game and Krka won 76:75.
Man of the match: Luka Lapornik did not just shine in the game's ending, but actually throughout the game, as he had 26 points (5/8 for 3 points), 5 assists, 4 rebounds, 1 steal, 1 block and a valuation of 31 in 31 minutes spent in the game. He is rightfully our man of the match.
Can't trick the stats: Krka had 34 rebounds and Igokea only 26 and this is what turned the game home team's way.