Cedevita Olimpija beat Crvena zvezda mts in Ljubljana
Sunday, 01. December 2019 at 17:00
In the derby game of the ninth round in the ABA League Regular Season, Cedevita Olimpija have prevailed over Crvena zvezda mts at home in Stožice Arena, Ljubljana.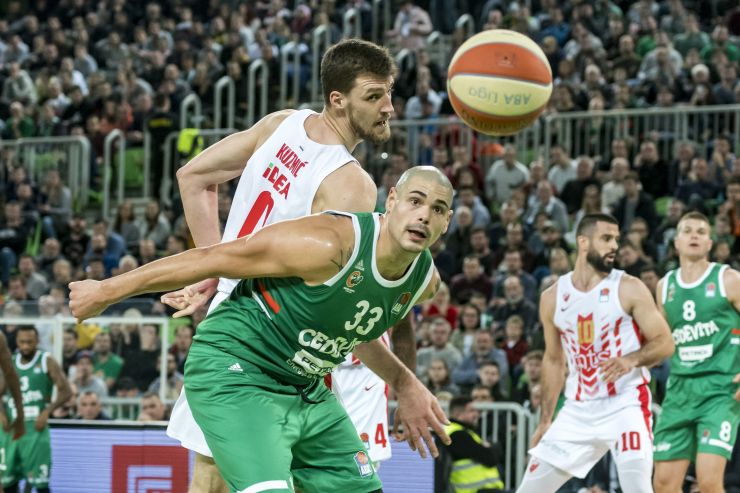 Maik Zirbes (Photo: Cedevita Olimpija/Jurij Kodrun)
ABA League Round 9, Sunday, 1.12.2019:
CEDEVITA OLIMPIJA - Crvena zvezda mts 75:64 (14:16, 21:16, 18:16, 22:16)
Game recap: What a game in Stožice in front of 5,000 fans! Cedevita Olimpija have beaten the reigning champions of Crvena zvezda mts and continue the season with seven victories on their record at the second place. On the other side, the Belgrade squad will continue to seek their way towards the Playoffs zone with five triumphs grabbed so far this season.
Key moments: The green and orange have been in front of the visiting side for the majority of the game and have in the end deservedly grabbed the win. However, the crucial one was their run in the last quarter, when they went on a 6:0 run to convert their 62:57 lead into a 68:57 with 3 minutes remaining on the clock. The battle for a pair of points was over.
Man of the match: Ryan Boatright was the true floor general for Cedevita Olimpija, as he had 17 points, 6 rebounds, 3 assists, 1 steal and a valuation of 24 in 28 minutes spent on court. He is our man of the match!
Can't trick the stats: Cedevita Olimpija have outrebounded Crvena zvezda mts 35:26 and that's what pushed them in front of their opponents this time.