Budućnost VOLI beat Mornar in double overtime
Saturday, 30. November 2019 at 19:59
Unbelievable game in Bar!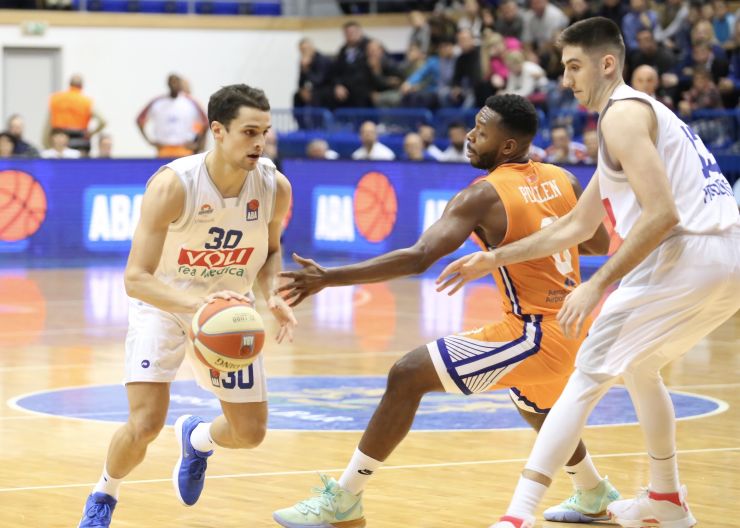 Petar Popovic (Photo: Mornar/MEDIA Pro)
ABA League Round 9, Saturday, 30.11.2019:
Mornar – BUDUĆNOST VOLI 92:95 (20:21, 21:23, 15:18, 22:16, 9:9, 5:8)
Game recap: Well, how to start this report after watching one of the most thrilling games of the ongoing season? Let's go firstly with the most important thing - Budućnost VOLI have defeated Mornar on the road in double overtime! The away team had more strength and concentration in the final moments and they managed to seize this huge road win, which will keep them at the top of the standings.
Budućnost VOLI now have the overall score of 8-1, while Mornar are at 4-5.
Key moments: Budućnost VOLI were up by 13 points in the 4th quarter, however Mornar managed to stay alive and to take this game into overtime. Jacob Pullen and Derek Needham scored some important shots to reduce the gap, while Damir Markota made the 2-pointer in the dying seconds to force overtime.
In the 1st overtime, Budućnost VOLI had another chance to win this game. After another thrilling 5 minutes the away team had the last ball-possession at the score of 87:87, however Nikola Ivanović missed the 2-pointer at the buzzer and the game went into 2nd overtime.
This time, it was Mornar who had the game in their hands. The home side were up by 92:89, while they had several chances to increase that lead and escape on the safe distance. But, Mornar have missed all of their shots until the end of the match (including the last one at the final buzzer when Jacob Pullen had a chance to take this game in the 3rd overtime). On the other side, Budućnost VOLI used this to make the crucial 6:0 run and take the win.
Man of the match: Justin Cobbs did not have the highest index rating in Budućnost VOLI, but he was the team leader in crucial moments. He scored some key points in overtime and helped the away team to prevail in this game.
Can't trick the stats: Mornar were relying on their 3-point shots way too much. They made 42 attempts from downtown and made 10 of them. But, what is important to mention is that they missed many 3-pointers in overtime.