Koper Primorska protect their second place in Laktaši
Sunday, 15. December 2019 at 12:00
In the opening game of the Sunday's ABA League schedule Koper Primorska have beaten Igokea, grabbed their eighth win of the season and they remain at the second place in the standings after half of the regular season.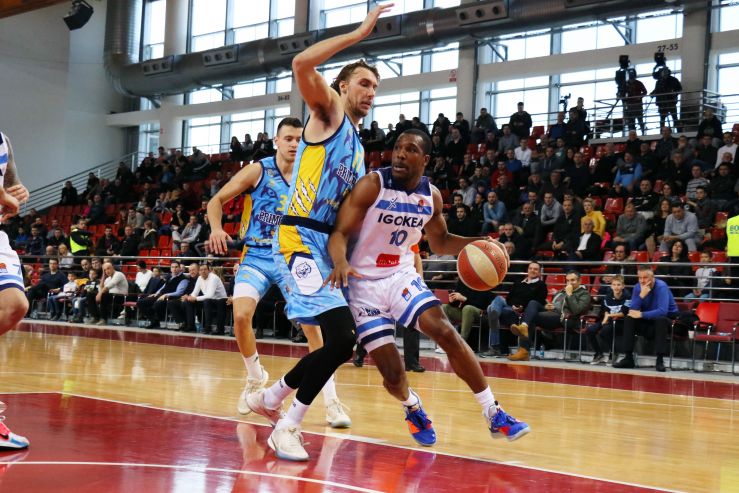 Michael Green (Photo: Igokea/Nikola Vuruna)
ABA League Round 11, Sunday, 15.12.2019:
Igokea - KOPER PRIMORSKA 84:88 (18:24, 17:18, 24:18, 26:28)
Game recap: Koper Primorska, the ABA League newcomers, are keeping their pace! They have beaten Igokea on the road in Laktaši, which is their eighth win of the season, that keeps them at the second place in the standings of the regional competition, midway through the 2019/20 season. Igokea, on the other side, will continue their struggle to escape the danger zone at the bottom of the ABA League standings, since they still have only two wins on their record, which keeps them only one triumph above the last-placed Zadar.
Key moments: During the four minutes at the end of the third and start of the fourth quarter, Igokea made a 20:5 run to get in front with the score of 68:65 after being behind throughout the game. However, Koper Primorska bounced back with a 12:3 run over the net three minutes and got ahead with the score of 71:77. The hosts did not manage to return back in front again until the end of the game even though they did make the finish interesting, but it was too late, as they did not manage to turn things around in the free-throw shooting ending.
Man of the match: Lance Harris came up with a monstrous performance in the game against Igokea, as he had 33 points (6/13 for 3), 10 rebounds, 3 assists, 1 steal and a valuation of 37 in 36 minutes spent on court. He is our man of the match!
Can't trick the stats: Koper Primorska have outrebounded Igokea 35:27 and that's what turned the game ther way.