Spectacular game-winner by Jaramaz for the top of the standings
Saturday, 11. January 2020 at 19:00
Partizan NIS have prevailed over Cedevita Olimpija at home in Štark Arena with a spectacular buzzer-beating game-winning three-pointer by Ognjen Jaramaz, Belgrade and now stand alone at the top of the ABA League standings.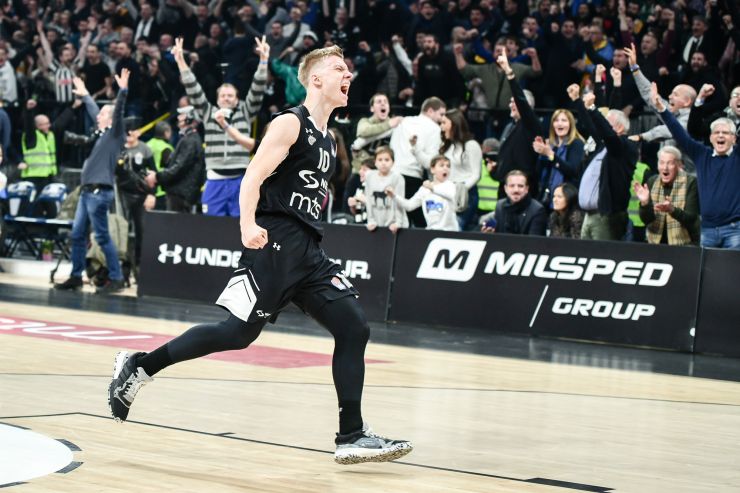 Ognjen Jaramaz (Photo: Partizan NIS)
ABA League Round 15, Saturday, 11.1.2019:
PARTIZAN NIS - Cedevita Olimpija 96:95 (23:25, 32:22, 26:22, 15:26)
Game recap: Partizan NIS are clelebrating a victory in the battle for the top of the ABA League after 15 rounds of the regular season, as they have prevailed over Cedevita Olimpija at home in Štark Arena in Belgrade. This win keeps Partizan NIS at the very top of the ABA League standings, where they now stand alone, with 12 triumphs after 15 rounds, one more than Budućnost VOLI and two more than Cedevita Olimpija.
Key moments: The game was literally won in the last second for Partizan NIS, as Ryan Boatright put his team up by 2 points with 14 seconds on the game clock. Partizan NIS had the final possession and they did not manage to score until 0.4 seconds left in the game. They made an inboud pass, the ball came to Ognjen Jaramaz, which was in an extremely difficult situation way beyond the arc… He fired and… scored an incredible shot!
Man of the match: Who else, but Ognjen Jaramaz. He did not only personally literally won the game for Partizan NIS with the amazing three-point shot, but has also led the team in scoring with 16 points (2/3 for 3 points), while adding 6 assists, 4 rebounds and a valuation of 23 to his stats.
Can't trick the stats: Partizan NIS have outgunned Cedevita Olimpija thanks to their amazing team performance. They had 31 assists and Cedevita Olimpija only 17. That's what turned the game their way.