The race for the Playoffs continues in Bar – Mornar vs. Koper Primorska
Friday, 10. January 2020 at 13:04
Each side is aiming to finish the regular season among the top 4 teams on the standings.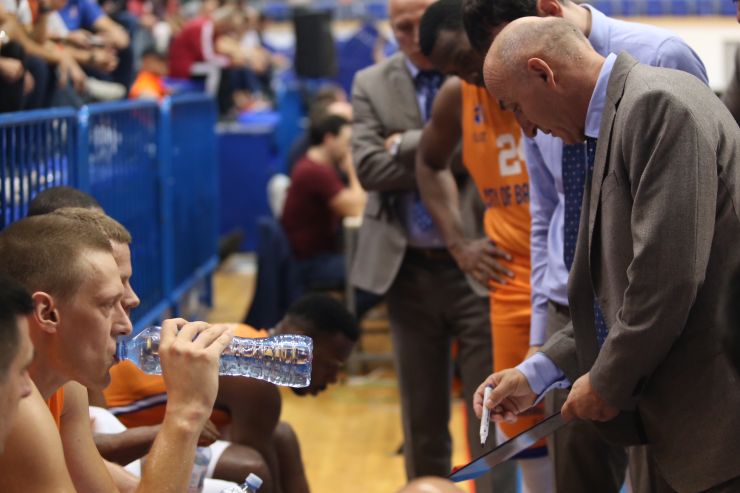 Mihailo Pavicevic (Photo: Mornar)
ABA League Round 15, Saturday, 11.1.2020:
Where? Topolica Sports Hall, Bar
When? 21:00
Story of the game: The race for the Playoffs continues in Bar, with two of the main contenders facing each other on Saturday evening in Round 15 of the regular season.
It's Mornar vs. Koper Primorska!
Neither side can brag about being in the best form. Mornar have lost the previous two games in the ABA League, while Koper Primorska are on a 3-game losing streak in the championship. Still, there are some positive things for each team ahead of this duel.
Mornar scored a pretty convincing win against Russian side Nizhny Novgorod last week in the FIBA Champions League which has boosted the team confidence significantly ahead of this important match. At the same time, despite losing the previous couple of games and staying without the best players from the first part of the season, Koper Primorska have showed some inredible team spirit and they made it clear to everyone that they haven't given up on their Playoffs dream.
It is also important to mention that Koper Primorska will be stronger for two players in the upcoming match, as the Tigers have signed contracts with Marko Luković and Sterling Dupree Gibbs.
Match-up in focus: While we have already said so many things about Mornar's top scorer Jacob Pullen in this season, let's now say a few words about Koper Primorska guard Luka Vončina. This 28-year old player has finally got his minutes on court and he is using them in the best possible way, scoring double-digits in each game in the 2nd part of the season. Now, Vončina will have quite a test, as he will have to outscore the 4th best league's scorer– Jacob Pullen of Mornar.
Head to head in the regional league: In total 0:1, In Bar 0:0.