Dragons get back on the winning track after overtime in Belgrade
Saturday, 01. February 2020 at 19:00
Cedevita Olimpija have bounced back after four straight defeats, as they have beaten FMP on the road in Belgrade.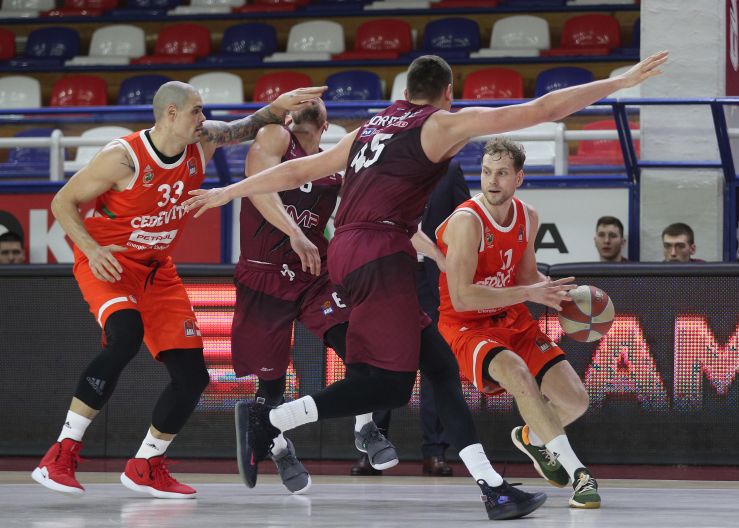 Jaka Blazic (Photo: FMP)
ABA League Round 18, Saturday, 1.2.2020:
FMP - CEDEVITA OLIMPIJA 100:105 (26:29, 16:22, 22:20, 10:15)
Game recap: Cedevita Olimpija have achieved an extremely important overtime win in the battle for Playoffs, as they have prevailed over FMP on the road in Belgrade and grabbed their 11th win of the season and first in the year 2020, after they have previously suffered four defeats in a row. On the other side, FMP have extended their winless streak to four games and they will continue their season with 9 triumphs on their record, which means that they are now in a difficult position in a battle for one of the Top Four spots at the end of the regular season.
Key moments: Cedevita Olimpija were close to winning the game in Belgrade, but it was Okben Ulubay who hit the three-pointer late in the game to take the teams to the score of 90:90 and an overtime. In the extra period, FMP were already up 94:91 with 3 and a half minutes left. That's when Cedevita Olimpija captain Jaka Blažič scored 12 points in a row to take his team up 103:98 with a bit more than half a minute left. The outcome of the game was decided.
Man of the match: Having in mind the thing written above, it's not hard to find out that Jaka Blažič was the man of this match. He did not only create the crucial run in the overtime, but has also led his team in scoring with 27 points, while adding 5 assists, 4 rebounds, 2 steals and a valuation of 32 to his stats!
Can't trick the stats: Cedevita Olimpija were shooting from the field 57% and FMP did it 46%. That's what was crucial for the outcome of the match.