Cibona grab a huge road win in Novo mesto
Saturday, 01. February 2020 at 16:59
Cibona prevailed over Krka in a thrilling game in Leon Štukelj Hall.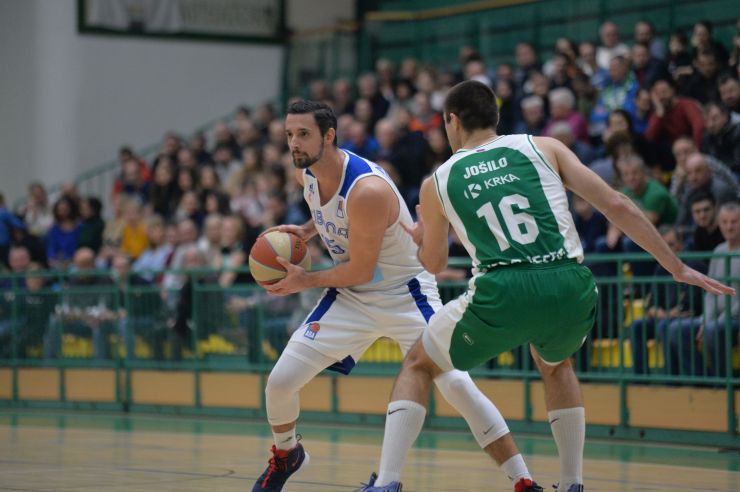 Ivan Novacic (Photo: Krka/Drago Perko/kosarka.si)
ABA League Round 18, Saturday, 1.2.2020:
Krka - CIBONA 69:77 (15:26, 20:20, 15:18, 19:13)
Game recap: Cibona have seized a huge road win in Novo mesto after beating Krka in a thrilling match! The visitors have been in front throughout the whole game, however Krka managed to reduce the gap to just 1 point in the 4th quarter and to make the game ending very, very interesting. Still, in the final 3 minutes Cibona made the crucial 9:2 run and seized the win.
Cibona and Krka are now all tied on the 2019/20 ABA League standings with the overall score of 6-12, with the Zagreb side having a better head-to-head score as they triumphed in both games against the Novo mesto troops in the regular season.
Key moments: Cibona were in front by 14 points at the start of the 4th quarter 64:50, but then Krka started melting the lead of the visiting side. The Green troops were impressive in defense in those moments and they made a 17:4 run which reduced the gap to a single point – 68:67. With just 3 minutes left on the game clock, Cibona simply needed someone to step up and take responsibility in key moments… And two of their most experienced players were there to save the day. Ivan Novačić and Marin Rozić led Cibona toward the crucial 9:2 run in the final 3 minutes which helped the Wolves take this precious win at the end.
Man of the match: Ivan Novačić! This 34-year old forward scored 22 points tomight, including those 6 in the final minutes which decided the winner.
Can't trick the stats: Krka made 12 turnovers in this match, while that can be explained by the fact that the Green troops once again played without both of their point guards – Paolo Marinelli and Glenn Cosey – who are still recovering from injuries.