Zvezda prevailed over Cedevita Olimpija
Sunday, 01. March 2020 at 19:59
Crvena zvezda mts are facing Cedevita Olimpija. Follow live play by play on our website.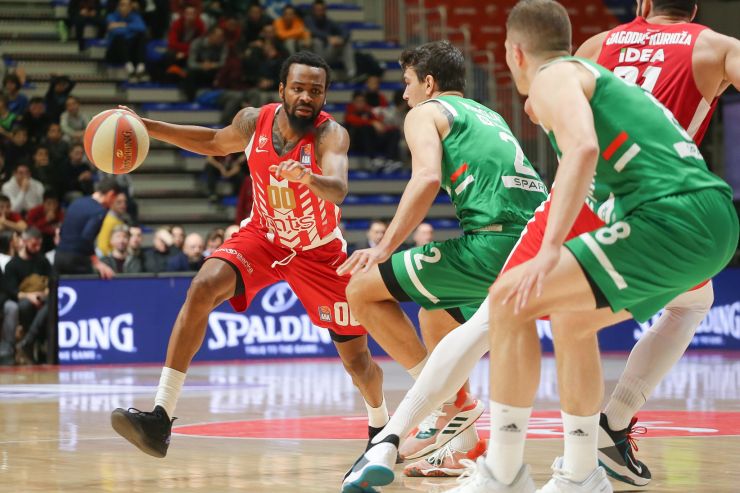 Kevin Punter (Photo: Crvena zvezda mts/Djordje Kostic)
ABA League Round 20, Sunday, 1.3.2020:
CRVENA ZVEZDA MTS - Cedevita Olimpija 88:73 (28:11, 18:17, 18:20, 24:25)
Game recap: Crvena zvezda mts are marching towards reaching their first goal of the season – qualifying for the ABA League Playoffs for the 2019/20 season. The red and white have convincingly triumphed over Cedevita Olimpija and are now a win ahead of the Dragons of Ljubljana in the ABA League standings with two rounds left to be played in the Regular Season.
Key moments: The outcome of the game was basically decided no later than in the first quarter, as Crvena zvezda mts were increasing their lead from minute to minute and left on the first break with the 17-point lead (28:11). There was no chance of return into the game for the green and orange.
Man of the match: Marko Jagodić-Kuridža had a fantastic game against his former coach Jurica Golemac. He had 18 points, 3 assists, 2 rebounds, just as many blocks and a valuation of 19. He is our man of the match.
Can't trick the stats: Actually, Crvena zvezda mts were better than Cedevita Olimpija in every statistical category and have deservedly written down the win.