Marko Luković scores the full-court 3-pointer at the buzzer to win the game for Koper Primorska
Sunday, 01. March 2020 at 19:57
Unbelievable game ending in Koper!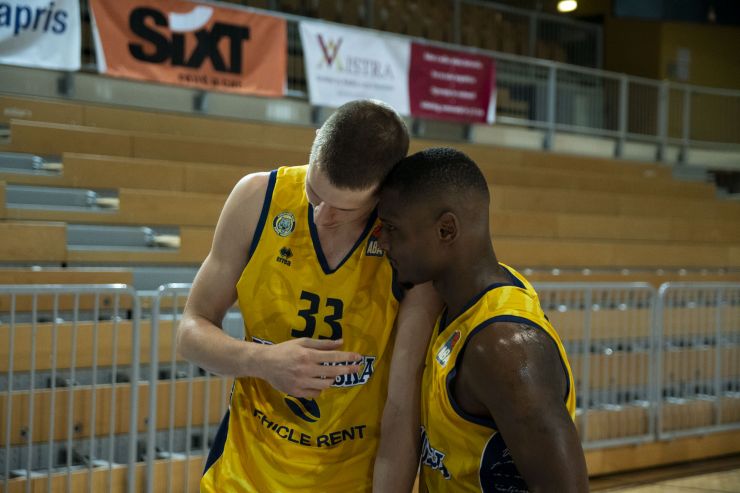 (Photo: Koper Primorska/Ziga Mikeli)
ABA League Round 20, Sunday, 1.3.2020:
KOPER PRIMORSKA - Cibona 79:78 (23:22, 18:28, 18:19, 20:9)
Game recap: Well, this was definitely one of the most exciting game-endings so far in the 2019/20 ABA League regular season! Koper Primorska have defeated Cibona by 79:78 after an unbelievable full-court 3-pointer scored by Marko Luković at the 4th quarter buzzer. Before that, Cibona's point guard Matic Rebec failed to seal the win for the visitors as he missed both free-throws.
Koper Primorska are therefore still in the race for the 2020 ABA Playoffs as they now have the overall score of 12-8. On the other side, Cibona have the overall score of 6-14, same as Mega Bemax and Krka, while those three teams are just a win in front of the last placed Zadar who are at 5-15.
Key moments: Everything seemed to be over in this match after Matic Rebec got fouled on 2.1 seconds before the end. At that moment Cibona were up by 78:76 and Rebec had a chance to definitely seal ther win for the visitors. However, Rebec missed the 1st free-throw, while he then decided to miss the 2nd one on purpose so that Koper Primorska would have to make a full-court shot in order to win the game. But, unfortunately for Rebec and Cibona, that is exactly what happened after his miss.
Marko Luković grabbed the defensive rebound, he made a dribbling and pulled up for a full-court 3-pointer... And the ball went IN right at the buzzer!
Man of the match: Well, this is not difficult, isn't it? Marko Luković is the hero of Koper Primorska and he fully deserves this reward this evening.
Can't trick the stats: Once again, we will say that looking at the stats after this kind of game-ending is quite pointless. Those 2 missed free throws by Matic Rebec and that miraculous 3-pointer made by Marko Luković decided the winner.