Mega Soccerbet triumphed in Laktaši
Saturday, 03. October 2020 at 17:00
Mega Soccerbet have achieved their first win of the 2020/21 ABA League season, by prevailing over Igokea on the road in Laktaši.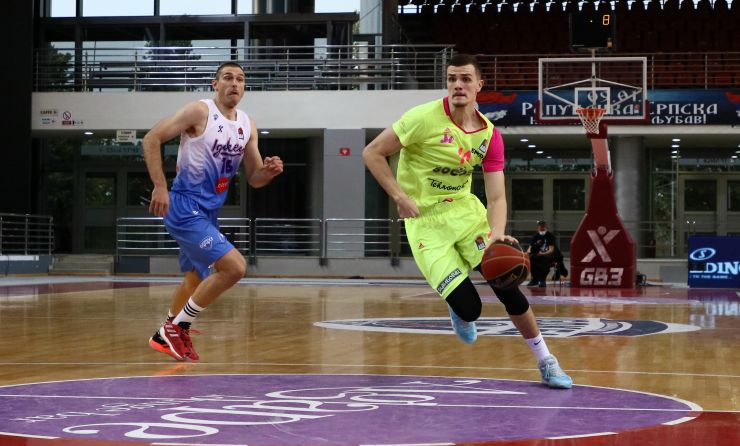 Marko Simonovic (Photo: Igokea/Nikola Vuruna)
ABA League Round 1, Saturday, 3 October 2020:
Igokea – MEGA SOCCERBET 62:84 (21:22, 15:26, 14:21, 12:15)
Game recap: Young Mega Soccerbet have started their ABA League season with a bang – with a road win against Igokea in Laktaši. The youngsters of Belgrade have demonstrated not only their ambition and energy, but also their vast offensive potential, especially in the paint, where Marko Simonović and Filip Petrušev have reigned. Igokea, on the other hand, just did not find an answer for the high offensive rhythm of the visitors and will keep searching their first ABA League win this season in the following rounds.
Key moments: The teams have still been close at the end of the first quarer, as Mega Soccerbet were up by only a point (21:22), but in the second quarter Mega's streak quickly began. They went on a 12:3 run between 12th and 17th minute, which put them up with a double-digit number of points (30:40). As it turned out, the hosts just did not manage to return into the battle or a victory again after that.
Man of the match: Marko Simonović of Mega Soccerbet has shined as he led his team towards a big win in Laktaši. He had 19 points, 13 rebounds, 1 assist, 1 block and a valuation of 33. He is our man of the match.
Can't trick the stats: Mega Soccerbet have demonstrated some Mega rebounding, as they have dominated the glass 39:29 in rebounds. And that's what gave them the win.