Cedevita Olimpija remains perfect after beating Split
Friday, 16. October 2020 at 20:00
In the opening game of the ABA League Round 3, Cedevita Olimpija have beaten Split and grabbed their second win of the season. The Dragons remain perfect this season.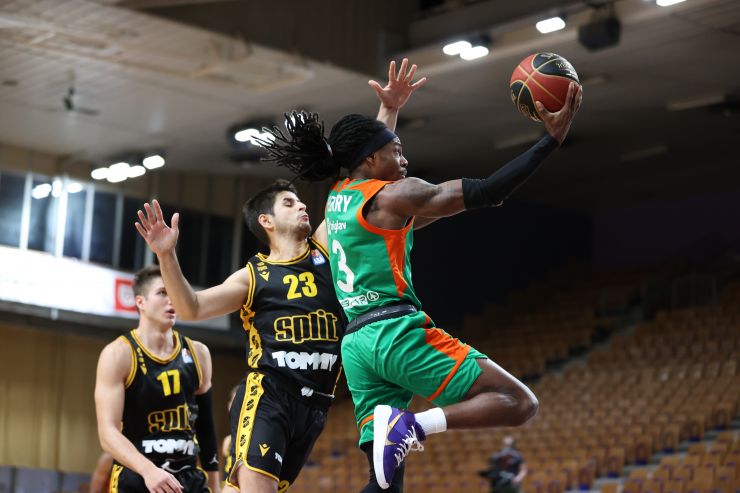 Kendrick Pery (Photo: Cedevita Olimpija/Ales Fevzer)
ABA League Round 3, Friday, 16 October 2020:
CEDEVITA OLIMPIJA - Split 94:66 (19:19, 23:19, 39:14, 13:14)
Game recap: Cedevita Olimpija have grabbed a big win over Split in the opening game of the ABA League Round 3, their second of the season, which means that they are staying perfect with 2 wins in two games played so far. The Dragons have dominated the second half, especially the second quarter, when they have achieved 39 points (this is the 7th highest number of points in the regional league's all-time history scored by a team in a single quarter) and deservedly grabbed a pair of points against the ABA League newcomers, that remain with their one win grabbed so far this season.
It's worth mentioning that Cedevita Olimpija youngsters Rok Radović (3) and Dan Duščak (2) have achieved their first ABA League points in this game.
Key moments: Cedevita Olimpija went on a 20:3 run in the opening 4 minutes of the second half and pulled away 62:41. The game was over at that point.
Man of the match: Kendrick Perry was on fire for Cedevita Olimpija this time, as he had 16 points (88% field goals), 8 assists, 3 rebounds, just as many steals and a valuation of 30. He is our man of the match!
Can't trick the stats: Cedevita Olimpija have outrebounded Split 38:26 and that's what was decisive for their win in the end.