Mega Soccerbet keep perfect record with a win in Zagreb
Sunday, 18. October 2020 at 17:00
In the opening game of the Sunday's ABA League schedule, Cibona are hosting Mega Soccerbet at home in Dražen Petrović Arena, Zagreb. Follow live play by play on our website.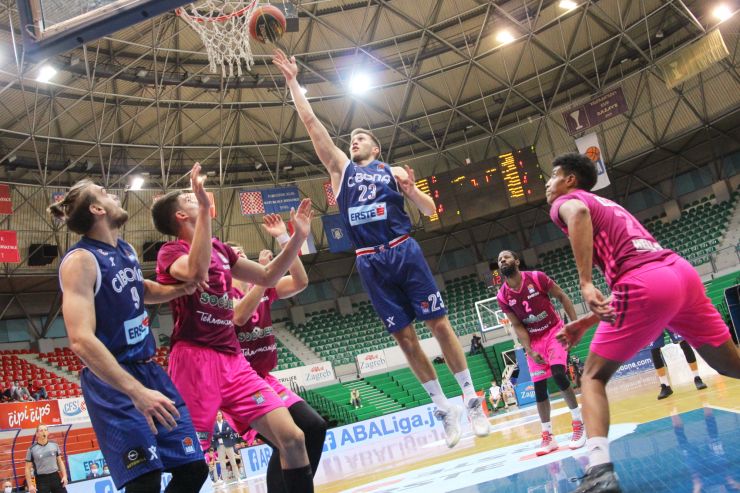 Mateo Dreznjak (Photo: Cibona/Zeljko Baksaj)
ABA League Round 3, Sunday, 18 October 2020:
Cibona - MEGA SOCCERBET 73:77 (20:31, 22:13, 16:13, 15:20)
Game recap: On the road in Zagreb in the Round 3 of the ABA League season, Mega Soccerbet have prevailed over Cibona and therefore stay unbeaten after the three rounds. The youngsters of Belgrade cracked the resistance of the hosts late in the final quarter and have deservedly grabbed a new pair of points. On the other side, Cibona continue to struggle in their battle for the first win this season, for which they will still have to wait a bit longer.
Key moments: With a bit more than a minute and a half remaining, the teams have still been tied at 71:71, but that's when Luka Cerovina scored a triple to take his team ahead 71:74. This was a start of the 5:0 run by Mega late in the game and when the two teams entered the final minute Mega have been up 71:76. Cibona did not manage to turn it around anymore.
Man of the match: Dayshon Scoochie Smith shined for Mega Soccerbet, as he led them towards the win in Zagreb. The American had 21 points, 5 assists, 4 rebounds, a steal and a valuation of 30. He is our man of the match.
Can't trick the stats: The teams were close in terms of result this time and the stats reveal just that. No team dominated any of the statistical categories this time.