Cedevita Olimpija prevailed over Borac in Stožice
Sunday, 15. November 2020 at 17:00
In the seventh round of the ABA League season, Cedevita Olimpija have edged out Borac at home court in Stožice Arena, Ljubljana.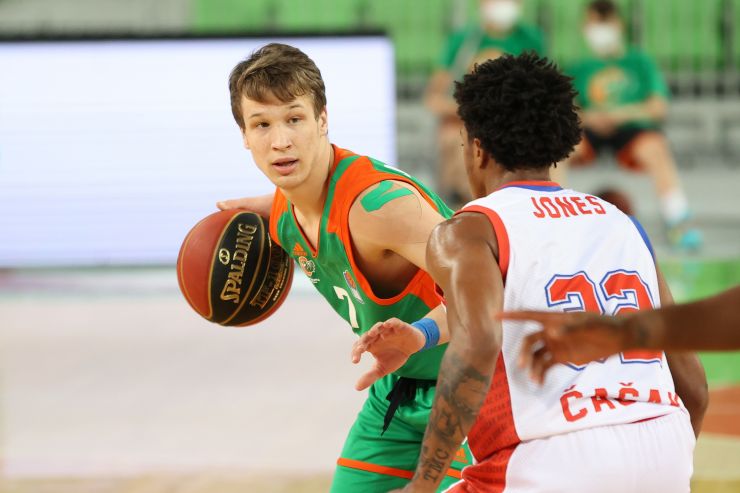 Dan Duscak (Photo: Cedevita Olimpija/Ales Fevzer)
ABA League Round 7, Sunday, 15 November 2020:
CEDEVITA OLIMPIJA - Borac 97:88 (25:25, 24:14, 24:18, 24:31)
Game recap: Cedevita Olimpija are continuing to aim high this season, as they have grabbed their fourth win in five games in the game against Borac at home in Stožice Arena. They therefore stay in touch with the very top of the standings, firmly seated in the battle for a Playoffs spot. On the other side, for Borac this is the fifth defeat, alongside only one win collected so far and they remain in the battle to avoid the danger zone near the bottom of the ABA League standings.
The game will also be rememberred by one of the best shots seen over the past few seasons in the ABA League. Check out how Dan Duščak has beaten the buzzer in the third quarter:
Key moments: The difference between the two squads emerged with 3 minutes left in the second quarter. With 3 left in the first half, the score was still 37:37, but then Cedevita Olimpija went on a 12:2 run until the end of the half. Borac did not manage to bounce back and get in front again until the end of the game.
Man of the match: Jaka Blažič was the best player of Cedevita Olimpija this time, as he has achieved 23 points, 8 rebounds, 4 assists and a valuation of 29 in 27 minutes spent on court. He is our man of the match!
Can't trick the stats: Cedevita Olimpija have outrebounded Borac 34:23 and that's what turned the flow of the game their way.