MATCH OF THE ROUND: Battle for the Playoffs – Crvena zvezda mts vs. Mega Soccerbet
Sunday, 31. January 2021 at 13:18
Crvena zvezda mts will host Mega Soccerbet in this week's ABA League match of the round.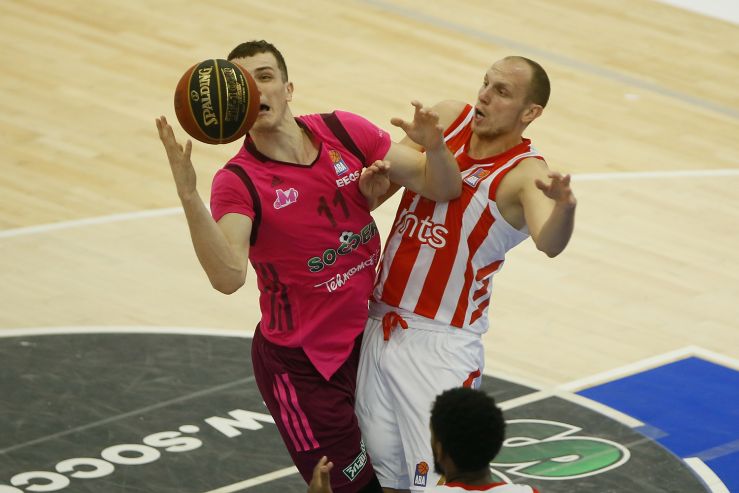 (Photo: Mega Soccerbet/Ivica Veselinov)
ABA League Round 17, Monday, 1 February 2021:
CRVENA ZVEZDA MTS - MEGA SOCCERBET
Where? Aleksandar Nikolić Sports Hall, Belgrade
When? 18:00
Story of the game: Crvena zvezda mts will host Mega Soccerbet in this week's ABA League match of the round.
You can definitely say that Mega Soccerbet is one of the favorite opponents for Crvena zvezda mts in ABA League as the red-and-whites have won every single game against Mega in the regional competition. The two sides have so far faced each other 18 times in ABA League and Crvena zvezda mts have scored 18 wins.
Still, Mega Soccerbet were really close to stun Crvena zvezda mts in the 1st part of this season (73:76), which makes us believe that we will have another very interesting game between these two rivals. After all, both teams are fighting for the Playoffs. Crvena zvezda mts currently have the overall score of 11-2, while Mega Soccerbet are at 11-5.
Match-up in focus: Over the past couple of weeks Landry Nnoko has become the starting center of Crvena zvezda mts. He was performing very well on both sides of the court and that is why he earned the trust of head coach Dejan Radonjić. In the upcoming game, Nnoko will face probably his most diffocult task in ABA League since arriving to Crvena zvezda mts as he will have to guard the league's top scorer Filip Petrušev. Mega Soccerbet's star player is having an outstanding season. Petrušev has scored 20+ points in the last 11 games, which is the league record, and he is not planning to stop there. This duel will definitely be very important for the final outcome.
Head to head in the regional league: In total 18:0; At Crvena zvezda mts home court 9:0.