Zadar win the overtime thriller vs. Partizan NIS
Saturday, 27. February 2021 at 16:59
What a game! Zadar have scored a huge win as they defeated Partizan NIS in overtime.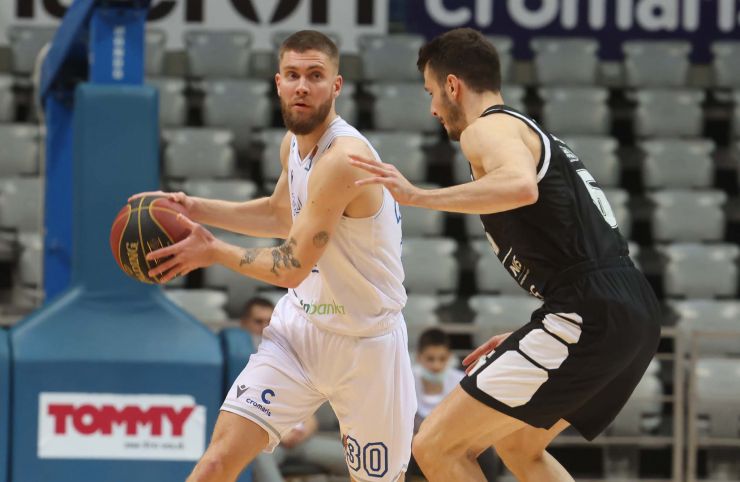 Dominik Mavra (Photo: Zadar/Zvonko Kucelin)
ABA League Round 19, Saturday, 27 February 2021:
ZADAR – Partizan NIS 96:94 (19:17, 22:20, 20:18, 22:28, 13:11)
Game recap: What a game! Zadar have scored a huge win as they defeated Partizan NIS in overtime. In another very exciting ABA League clash, the home side made a 6:0 run late in overtime to escape on a 6-point lead 96:60, while in the final moments of the game Domagoj Vuković made the key block to secure the win for Zadar.
This was the 3rd consecutive win for Zadar who now have the overall score of 6-9, while Partizan NIS have suffered their 5th defeat in a row in this ABA League season and their current season record is 7-11.
Key moments: Zadar had a 6-point lead late in the 4th quarter, after Dominik Mavra and Justin Carter scored two long-range 3-pointers for 81:75. However, Partizan NIS managed to tie the score in the very last second of the 4th quarter as Ognjen Jaramaz hit the 3-pointer to take this game into overtime.
The big battle continued in the additional 5 minutes and the score was all tied on 1:40 until the end – 90:90. That is when Zadar started their mini run that decided the winner. Dominik Mavra made a lay-up, then 20-year-old Jan Palokaj added two more points, while finally Mavra made two free throws to give Zadar a big 6-point lead with less than a minute remaining on the game clock – 96:90. Still, Partizan NIS had one more chance to take this game into overtime as Nemanja Dangubić had two free throws at the score of 96:93, with 1.2 seconds before the end of the match. Dangubić made the first one for 96:94, he them missed the second free throw on purpose and managed to take the offensive rebound... However, just when he went for the final shot to try tying the score, Domagoj Vuković made the game-winning block which sealed the win for Zadar.
Man of the match: This was a true team win for Zadar who had 6 players with 10+ points in this match. Still, if we have to choose one player for the MVP of the game award, then let it be Domagoj Vuković who finished the match with 11 points, 7 rebounds and 6 assists. And on top of that, he made that game-winning block.
Can't trick the stats: We have previously mentioned that Zadar played as a team this evening and the number of assists proves that. Zadar had 21 assists tonight, while Partizan NIS had 12.