Presenting the 2021/22 ABA League teams – Mornar – Barsko zlato
Tuesday, 14. September 2021 at 08:25
New name, but the same goals for ambitious team from Bar.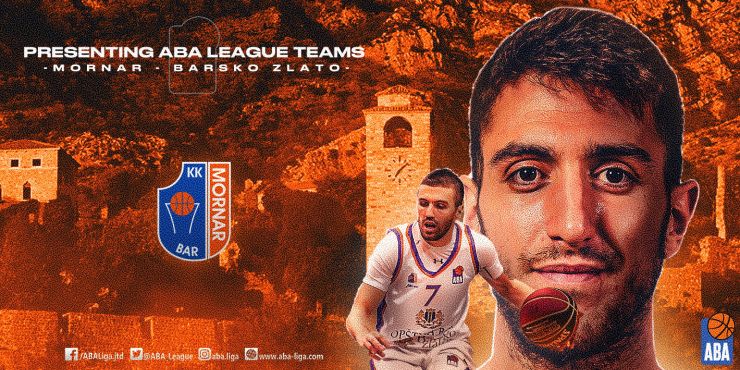 Mornar – Barsko zlato will enter the new season with a new name, but with same goals as this ambitious team will give its best to repeat the result from the last season, when it reached the ABA League Playoffs for the 2nd time in club's history.
Mornar – Barsko zlato have made plenty of changes in the roster, but the man in charge of the first team has remained the same. Mihailo Pavićević is still the head coach of the Bar troops and this will be his 5th consecutive season to lead his hometown club in ABA League.
Mihailo Pavićević and his brother Đorđije Pavićević, who is the club's president, have once again combined forces to create a respectable team that may aim for the very top of the regional basketball. After the team has stayed without no less than 9 players over the summer, the Pavićević brothers started creating the roster for the 2021/22 season and so far they have brought in 6 newcomers, including Gligorije Rakočević (Usti nad Labem), Corey Davis Jr. (BCM Gravelines-Dunkerque), Strahinja Mićović (Bonn), Milija Miković (Šibenka), Trey Lewis (Maccabi Rishon LeZion) and Vladimir Mihailović (Okapi Aalstar) .
On top of that, Mornar – Barsko zlato made sure to keep some of the best players from the last season, so they extended contracts with Nemanja Gordić, Marko Jeremić, Nemanja Vranješ and Taylor Smith, while they also kept Aleksandar Lazić and Sead Šehović.
According to their preseason results, Mornar – Barsko zlato have managed to form a strong team that can play against anyone in the league. Can they make the Playoffs again? We are about to find out in the upcoming months.
Check out Krka's ROSTER for the 2021/22 season.